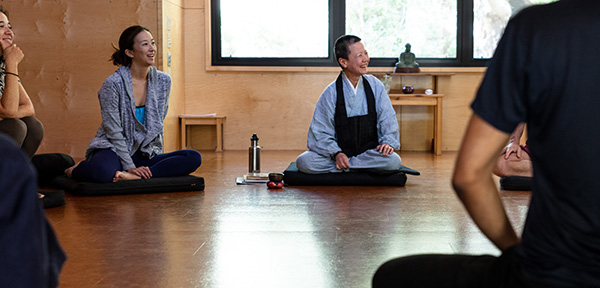 Tassajara invite guests to join with outstanding teachers and explore the variety of ways that Zen Buddhism and other spiritual traditions can inform and enrich one's life. Whether it's a yoga, cooking, or artistic retreat, each one is combined with the awareness cultivated through Zen meditation, allowing the experience of one tradition to be enriched by the other. All retreats include scheduled time for practice in the topic area as well as plenty of free time to enjoy the baths, hike, or simply rest and savor a cup of tea.
Retreats begin with meditation instruction at 4:00 pm on the day of arrival.
Photos and bios of the season's retreat leaders
Added in 2011, this graceful and well-equipped building provides a dedicated space for the variety of retreats and workshops offered at Tassajara. 
Tassajara welcomes suggestions about future retreat and workshop offerings. 
Tassajara is a welcome departure from the pace of modern life, with a history of healing and rejuvenation offered by the Los Padres Forest itself, bolstered by our natural hot springs, and legacy of zen practice.
---
2020 Retreat Schedule: