The concept of lineage developed during the Tang Dynasty in China (619 - 907). It incorporates elements from earlier Indian Buddhism and East Asian Mahayana Buddhism, but began to be systematized at that time. Part mythology and part fact, lineage indicates that the essence of practice is not just carried in the written teachings, but has been transmitted "warm hand to warm hand" in an unbroken succession of teachers to students. Below in date order is a list of SFZC teachers who have served or are serving as abbot/abbess.

Shunryu Suzuki Roshi, a Japanese Zen priest belonging to the Soto lineage, came to San Francisco in 1959 at the age of 55. He was impressed by the seriousness and quality of "beginner's mind" among Americans he met who were interested in Zen and decided to settle here. As more and more people joined him in meditation, Zen Center came into being and he was its first abbot. Under his tutelage, Zen Center grew into two centers: Tassajara Zen Mountain Center and City Center. He was undoubtedly one of the most influential Zen teachers of his time. Some of his edited talks have been collected in the books Zen Mind, Beginner's Mind; Not Always So: Practicing the True Spirit of Zen; Branching Streams Flow in the Darkness: Zen Talks on the Sandokai; Zen Is Right Here; and Wind Bell: Teachings from the San Francisco Zen Center 1968-2001. Suzuki Roshi died in 1971.

Zentatsu Richard Baker Roshi was the second abbot of Zen Center, serving from 1971 until 1983. He was instrumental in the purchase of Tassajara Zen Mountain Center and Green Gulch Farm. He was also the leading force in setting up Zen Center's financial base of support, including Greens Restaurant at Fort Mason and Tassajara Bakery in San Francisco. Although the circumstances leading to his resignation as abbot in 1984 were difficult and complex, in recent years, there has been increased contact; a renewal of friendship and dharma relations. In his teaching, Baker Roshi emphasized Zen's yogic teachings and the relevance of Zen to contemporary philosophical and social issues. He is currently the spiritual head of Dharma Sangha, with locations in Crestone, Colorado, and the Black Forest of Germany.

Dainin Katagiri Roshi came to the United States in 1963 after training at Eiheiji Monastery and working with Soto Propagation and Research Institute and then for the Soto Headquarters Office in Tokyo. He practiced and taught at the Zenshuji Soto Zen Mission in Los Angeles, later moving to Sokoji Soto Zen mission and then to San Francisco Zen Center, where he assisted Suzuki Roshi. In 1972 he became the first abbot of Minnesota Zen Meditation Center in Minneapolis. He returned to serve as abbot of San Francisco Zen Center between 1984 and 1985, then returning to Minneapolis. Books of his teaching include Returning to Silence (Shambhala 1988), You Have to Say Something: Manifesting Zen Insight (Shambhala 2000), and Each Moment is the Universe: Zen and the Way of Being Time (Shambhala 2008). Katagiri Roshi died in 1990.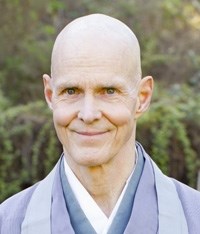 Tenshin Reb Anderson was born in Mississippi in 1943 and grew up in Minnesota. He came to Zen Center in 1967 and was ordained as a priest in 1970 by Suzuki Roshi, who gave him the name Tenshin Zenki ("Naturally Real, The Whole Works"). He received dharma transmission in 1983, served as abbot from 1986 to 1995, and is currently a senior dharma teacher. He lives with his family at Green Dragon Temple (Green Gulch Farm). Please click here to see a list of Reb's lecture schedule.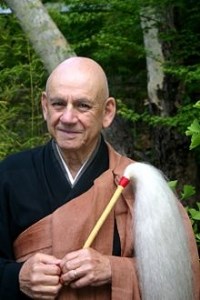 Sojun Mel Weitsman began practice at the old Sokoji Temple in San Francisco in 1964 with Suzuki Roshi. He received priest ordination from Suzuki Roshi in 1969 at Berkeley Zendo, which he founded in 1967 with Suzuki Roshi's blessing. He was shuso at Tassajara in 1970 with Tatsugami Roshi, and director of Tassajara in 1972-1973. In 1984, he received dharma transmission from Suzuki Roshi's son Hoitsu. In 1985 he was installed as abbot of Berkeley Zen Center; in 1988 he was installed as co-abbot of San Francisco Zen Center. His tenure as SFZC abbot ended in January 1997. Sojun passed away on January 7, 2021.

Zoketsu Norman Fischer began his Zen practice under Sojun Mel Weitsman at the Berkeley Zen Center in 1970. He enrolled as a student at Tassajara Zenshin-ji monastery in 1976, lived there for five years, and then practiced for 20 years at Green Dragon Temple (Green Gulch Farm). Ordained by Zentatsu Richard Baker in 1980, he received dharma transmission from Sojun in 1988. He served as co-abbot of Zen Center from 1995 to 2000.
A poet and writer, he is the author of several books of poetry, numerous Buddhist essays, a memoir, and other important books, such as Taking Our Places: the Buddhist Path to Truly Growing Up (2003, Harper Collins). His Opening To You: Zen-Inspired Translations of the Psalms is used liturgically by many Christian and Jewish groups and individuals.
In February of 2000 Zoketsu began the Everyday Zen Foundation, dedicated to "changing the world and being changed by it and sharing Zen teaching and practice as widely as possible and in a variety of formats." Zoketsu now lives with his wife Kathie in Muir Beach, near Green Gulch Farm. They have two grown twin sons, Aron and Noah.

Zenkei Blanche Hartman began sitting in 1969 at the Berkeley Zen Center with Sojun Mel Weitsman, and in San Francisco with Suzuki Roshi. She was priest ordained in 1977 by Zentatsu Baker Roshi and received dharma transmission with Sojun Mel Weitsman in 1988. Zenkei was abbess of San Francisco Zen Center from 1996 to 2003. She was married to Shuun Lou Hartman until his death in 2011. She continued to reside at City Center where she served as a senior dharma teacher and teacher of sewing Buddha's robe in the lineage of Sawaki Kodo Roshi. Zenkei died on May 13, 2016, a few days after her 90th birthday. Memories and photos are posted on our Great Leap blog. The new sewing room at City Center has been named in her memory the Inconceivable Joy Sewing Room.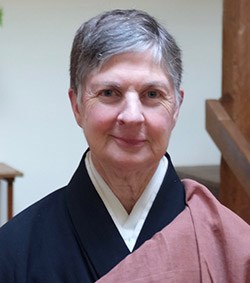 Eijun Linda Cutts came to San Francisco Zen Center in 1971, where she practiced with Suzuki Roshi, Zentatsu Richard Baker, and Tenshin Reb Anderson. She was ordained as a priest in 1975, and has lived at Tassajara and the City Center. Married to Steve Weintraub, she and her family have lived at Green Gulch Farm since 1993. She received dharma transmission from Tenshin Reb Anderson in 1996 and was co-abbess of Zen Center from 2000 to 2007. She again took on the role in 2010 when she was appointed abiding abbess of Green Gulch Farm Zen Center, and subsequently appointed central abbess of Zen Center's three temples in 2014, after the untimely death of Myogen Steve Stücky. Eijun continues to teach and lead practice periods and retreats at Tassajara, Green Gulch, and elsewhere.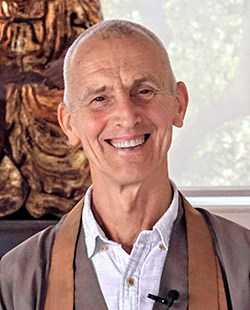 From Belfast, Northern Ireland, Paul Haller left home in 1971, lived in London for a year, then traveled throughout Europe, the Middle East, Russia and Afghanistan. He ended up in Japan, where he lived for a year and was introduced to Zen before traveling throughout southeast Asia. He was ordained a Buddhist monk in Thailand, where he spent six months sitting in a remote cave.
Having moved to Tassajara Zen Mountain Center in 1974, Paul was ordained as a priest by Zentatsu Richard Baker in 1980, who gave him the name Ryushin Zendo, "Dragon Heart, Zen Way." In 1993 he received dharma transmission from Sojun Mel Weitsman.
The founder and former director of Outreach at SFZC, Paul is interested in finding ways of expressing our practice in society, both as compassionate service and making it available to as many people as possible. He became co-abbot of Zen Center in 2003, and stepped down in 2012. He continues at City Center as urban temple dharma teacher.

Myogen Steve Stücky brought to the abbacy his many years of practice—as a resident of Zen Center from 1972-80, as the founder and guiding teacher of the Dharma Eye Zen Center in San Rafael (1995-2013), and as co-leader of the San Quentin Buddhadharma Sangha. Steve received dharma transmission from Sojun Mel Weitsman in 1993. For many years he supported a family as a self-employed landscape designer/contractor. He was in training for several years as an Internal Family Systems therapist and pastoral counselor, and was a previous board president of the Soto Zen Buddhist Association. He became co-abbot in February 2007, and Zen Center's first central abbot in 2010. In September 2013, shortly after committing to an extended abbatial term into 2017, he was diagnosed with late-stage pancreatic cancer. His health declined rapidly until his death on December 31 of the same year, at age 67. He is remembered, in part, for courageously sharing his dying process with the sangha through the Subtle Eye blog during the difficult months of his illness. He is survived by his spouse, Lane Olson, who he lived with in Rohnert Park, three adult children and four grandchildren. (Full obituary.)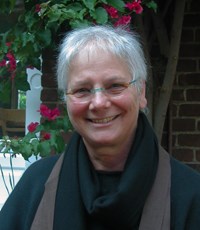 Kiku Christina Lehnherr has a degree in Clinical Psychology and worked as a psychotherapist in Switzerland. She has been a Zen student since 1976 and began residential practice at San Francisco Zen Center in 1988. Ordained as a priest in 1993, she received dharma transmission from Tenshin Reb Anderson in 2005. From 2003 to 2006 she served as head of practice (tanto) at City Center.

Christina was City Center abbess from February 2012 through February 2014.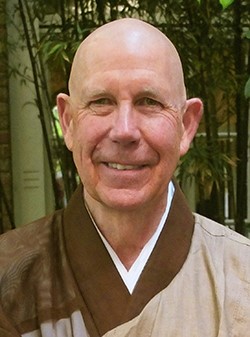 After meeting Suzuki Roshi in 1970, Rinso Ed Sattizahn lived at Tassajara from 1973 to 1977. He spent the next five years at City Center, serving as Zen Center's vice president and president. From 1983 to 2000 Ed held various executive positions in the microcomputer software industry and developed familiarity with how the world works. In 2003, he was shuso at Green Gulch Farm, and in the same year co-founded Vimala Sangha in Mill Valley with Lew Richmond. Vimala Sangha is named after Vimalakirti, the famous householder disciple of the Buddha, and is dedicated to the practice of householder Zen in the tradition of Suzuki Roshi. Ed received lay entrustment in 2005, was ordained as a priest in 2010, and received dharma transmission in 2012, all from Lew Richmond. Ed previously served on the Zen Center Board for six years (2006-2011) and as board chair for three years (2009-2011). In March 2014, Ed became abiding abbot at City Center and in March 2019 became the central abbot, while remaining the guiding teacher at Vimala Sangha Mill Valley.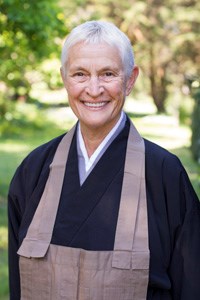 Furyu Nancy Schroeder, a resident of Zen Center for over 35 years, became abiding abbess at Green Gulch Farm Zen Center in March 2014. Fu has held most of the monastic positions at Zen Center and has been an active supporter of programs for children, people of color, the gay and lesbian community, and the interfaith community. In 2008 she was elected to the Marin Women's Hall of Fame, and in 2010 she was appointed to the Board of the Marin Community Foundation. In addition, she has previously co-led Zen Center's Contemplative Caregiver Course. She received dharma transmission from Tenshin Reb Anderson in 1999.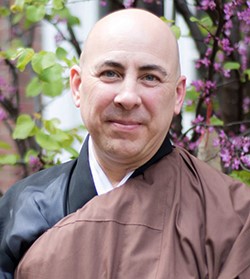 Tenzen David Zimmerman, has been practicing Soto Zen for almost 30 years, 19 of which have been in residence at San Francisco Zen Center. He was ordained as a priest in the lineage of Shunryu Suzuki Roshi by Rev. Teah Strozer in 2006 and received dharma transmission from her in 2018. David spent eight years at Tassajara Zen Mountain Center, where he held a number of positions, including monastery director. Prior to his current role as the incoming abiding abbot of City Center, David also served as the head of practice, programs director and corporate secretary. David has a Certificate of Zen Ministry through the Shogaku Zen Institute/Zen Priest Training Seminary, serves on the SFZC Promoting Inclusivity & Equity Committee, and is a co-facilitator of Queer Dharma. He regularly leads retreats, workshops, and classes at SFZC and other dharma centers, particularly on transforming depression and anxiety. He became the City Center abiding abbot in March 2019.