What is your inmost request? What will appease your suffering or agitation or irritation? - Shunryu Suzuki, lecture - July 26, 1965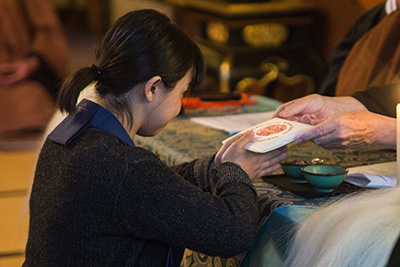 The study and practice of Buddhism and Zen, in their many forms and expressions, can take students as deep as they want to go. For some, a next step is lay initiation/jukai. At San Francisco Zen Center the custom is for those receiving lay initiation to sew their own rakusu—a small version of a robe that is worn around the neck. More information is below, along with recommendations for other ways to deepen one's practice.

Explore the wide variety of Zen practice programs at Tassajara.
A selection of class recordings for continuing study
Translations and commentary of some of the most important primary texts of Buddhism and Zen