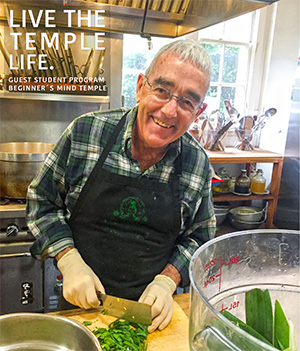 Please note: At this time, the City Center guest student program is open. As a residential community, we are still in the process of post-pandemic reopening and are adjusting our protocols periodically to ensure the safety of our residents.
---
Program Details
Guest students participate in the practice schedule and daily life of City Center. This includes morning zazen (sitting meditation), service (sutra chanting and bowing), work (often of a physical nature), and communal vegetarian meals. Zazen instruction, Dharma talks, daily Dharma discussion with the work crew, and meetings with teachers are also offered. Intensives and sesshins (silent retreats) may also be available to guest students with an additional registration fee.
Guest Student Daily Schedule
Monday* through Friday
Saturday - day off of work
5:10 am wake-up bell
6:00 am wake-up bell
5:40 zazen
6:30 zazen
(6:05 - 6:10 interval)
7:10 service
6:50 service
7:40 soji
7:15 soji (temple cleaning)
7:55 breakfast
7:30 breakfast
10:15 Dharma talk
Break
12:00 pm lunch
9:00 work begins (*Monday schedule begins)
Afternoon off
12:30 pm lunch
 
1:30 resume work
Sunday
3:00 end work
Day off of both work and practice schedule
5:40 zazen (optional after first 2 weeks)
 
6:30 dinner
 
7:45 Dharma talk (Wednesday only)
 
 
 
Note: During practice periods, the afternoon schedule may vary
 
 
*Optional Monday morning schedule
6:10 am zazen
 
6:40 kinhin
 
6:50 zazen
 
7:30 breakfast
 

Length of Stay
Guest student stays are a minimum of two weeks and a maximum of six weeks. If you are interested in a longer stay, please contact the guest student manager.
Long Term Residency
For those interested in continuing at City Center for a long term stay after being a guest student, they can apply to be a Work Practice Apprentice. Click here to learn more. In order to apply as a WPA, students are required to do a minimum 2-week guest student stay.
Health and Safety
City Center is a congregate living facility which includes high risk individuals. As such, the process of post-pandemic reopening and the student guidelines outside of San Francisco Zen Center may be more restrictive than City and State mandates.
Anyone applying to be a Guest Student must be fully vaccinated with one of the following vaccines: Pfizer, Moderna, Johnson & Johnson, Novavax, or AstraZeneca (please note that AstraZeneca may be known by other names). If you have a WHO approved vaccine and you don't see it listed here, please consult with the guest student manager, as it still may be possible for you to join us. One is considered fully vaccinated two weeks past the final (or only) vaccination shot plus a booster. (If you are an international student who has not received one of these vaccines, but you would still like to join us for a guest student stay, please contact the guest student manager.)
If a guest student becomes sick, they will be asked to remain in their room (or quarantine room) and take an antigen self-test onsite. For guest student stays of one month or less, if they test positive for Covid-19, they will be asked to depart City Center. If they cannot return home due to travel restrictions, we will support their quarantine to the best of our ability.
Residents may go into museums, restaurants, and stores as long as they follow the mask-use guidelines of the establishment. Though residents are not required to wear masks inside the temple, residents must wear masks when riding public transportation or going to medical appointments.
Please contact the guest student manager to learn about the most current guidelines if you think this will impact your ability to participate in community life.
Diversity, Equity, Inclusion, and Accessibility
As part of a diverse community and world, SFZC acknowledges that diversity practice and dharma practice are not separate. SFZC is engaged in practice, conversation, and study to further embody diversity, inclusion, equity, and cultural humility. Students at SFZC aspire to view all beings as Buddha, treating each person we meet equally with care and respect.
City Center welcomes people of every gender, age, race, ethnicity, class/income level, sexual orientation, political belief, language spoken, and physical ability, and will try to accommodate the requests of the sangha.
SFZC has a designated fund to support BIPOC practitioners with guest student stay fees. Please indicate to the Guest Student Manager/Work Leader if this applies to you.
To Apply
Please complete and submit the Guest Student Application Form. Ideally applicants will have an established Zen practice; however, this is not required.
In addition to filling out the application form, send a letter of recommendation to ccstudent@sfzc.org in order to complete your application. This letter can be from a spiritual teacher, academic teacher, mentor, or employer. Please provide contact information so that we may reach your teacher/mentor if necessary, including their name, email address, and phone number.
Please apply at least one month prior to your preferred arrival date. Applications may be submitted less than a month before; however, due to the reviewing process your application may not be accepted in time for you to begin your stay on your preferred date. Applications may be submitted up to a year ahead of your planned visit.
Approval and Fees
Applications are reviewed and approved in the order received.
$50 non-refundable deposit covers the first two nights of one's stay.
$25/night for the remaining number of nights.
SFZC has a designated fund to support BIPOC practitioners with guest student stay fees. Please indicate to the Guest Student Manager/Work Leader if this applies to you.
Planning Your Stay
Guest students arrive at City Center, 300 Page Street, at 9:45 am on Monday, and ring the bell at the main entrance. City Center does not provide parking so it is advisable to take public transportation, a taxi, or use an app-based car service (like Uber or Lyft), and leave your car elsewhere. Rooms are currently single occupant; however, as safety permits we may return to shared rooms with two students. We will provide you with a zafu (meditation cushion), sheets, blankets, pillows, and a bath towel. A full packing list will be provided once your application has been accepted.
In the spirit of maintaining Buddhist precepts, guest students are asked to abstain from drug and alcohol use, and from initiating new sexual relationships during their guest student stay.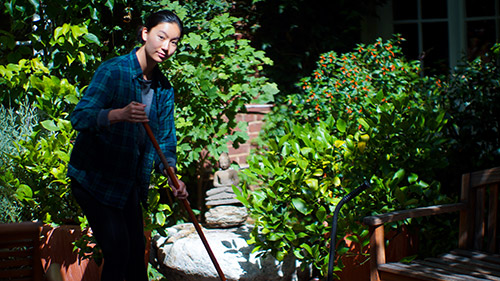 Contact
For inquiries, contact the Guest Student Manager/Work Leader at ccstudent@sfzc.org.