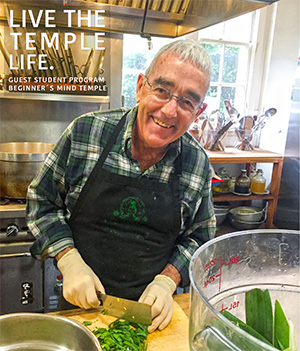 Please note: The guest student program at City Center is currently suspended due to safety concerns regarding Covid-19. The program is still accepting applications and we encourage you to fill out an application and express your interest. However, at this time no dates will be reserved on our calendar for guest student stays until January 2021. If the current situation has an improvement that enables us to safely re-open this program prior to next year, you will be contacted. Depending on how the status of public health unfolds, we may need to suspend the guest student program beyond January 2021. Should this be the case, we will contact you to reschedule your stay.
---
The City Center Guest Student Program offers a short-term residency opportunity of two to six weeks for those interested in beginning or continuing their Zen practice within the support of community.

Guest students participate in the schedule and daily life of City Center (see schedule below). This includes morning and evening zazen (sitting meditation), service (sutra chanting and bowing), work (often of a physical nature), and communal vegetarian meals. Zazen instruction, classes and lectures on Buddhism, opportunities for discussions and meetings with teachers and practice leaders are also offered. Guest Students are also invited to join one-day sittings if scheduled during their visit.
To Apply
Please complete and submit the Guest Student Application Form.
Please apply at least one month prior to your preferred arrival date. Applications may be submitted less than a month before; however, due to the reviewing process your application may not be accepted for that timing. Applications can be submitted up to a year ahead of your planned visit.
Approval and Fees
Applications are reviewed and approved in the order received. Please check the "Interims, Sesshins, and Residents' Retreat" section below for dates when the Guest Student program is not open.
The cost is $25 per day. A $50 non-refundable deposit (covering the cost of the first two nights) is due upon confirmation of a Guest Student stay. Instructions on how to submit the deposit are included with application approval.
Planning Your Stay
Guest Students arrive on Monday mornings at 8:45 am and depart Saturday afternoons after lunch. There may be flexibility to accommodate travel plans when necessary; please be sure to obtain approval from the work leader for a different arrival or departure time.
Please bring closed-toed shoes (sneakers are fine) and slip-on shoes or sandals. Comfortable clothing, subdued in color, is preferred attire for zendo (meditation) events and temple ceremonies. Shoulders and knees remain covered during zendo events. Please note that San Francisco's weather can be quite variable.
Guest Students stay in simple shared rooms or small dormitories.
In the spirit of maintaining Buddhist precepts, guest students are asked to abstain from drug and alcohol use, and from initiating new sexual relationships during their guest student stay.
Guest Student Daily Schedule
| | |
| --- | --- |
| Monday through Friday | Saturday |
| 5:00 am wake-up bell | 6:10 am wake-up bell |
| 5:25 zazen | 6:30 zazen |
| 5:55 kinhin (walking meditation)    | 7:10 service |
| 6:05 zazen | 7:40 soji |
| 6:40 service | 7:55 zendo oryoki breakfast |
| 7:05 soji (temple cleaning) | 8:40 break or 8:45 zazen instruction |
| 7:20 breakfast | 9:25 zazen |
| 9:00 work meeting | 10:15 lecture |
| 12:30 end work lunch | 11:00 tea & discussion |
| 1:30 pm work | 12:00 lunch |
| 3:00 end work | Afternoon off |
| 5:40 zazen |   |
| 6:20 service | Sunday |
| 6:30 dinner | 7:30 am informal breakfast |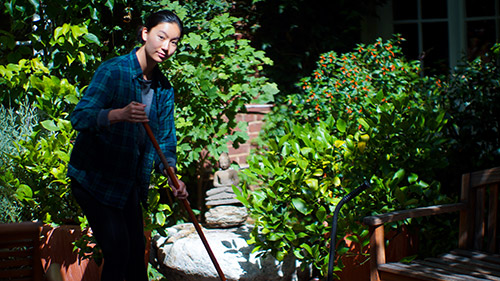 Interims, Sesshins, and Residents' Retreat
The Guest Student Program is not open during interims, sesshins, and the annual Residents' Retreat. Applicants should check these dates when planning their Guest Student stay.