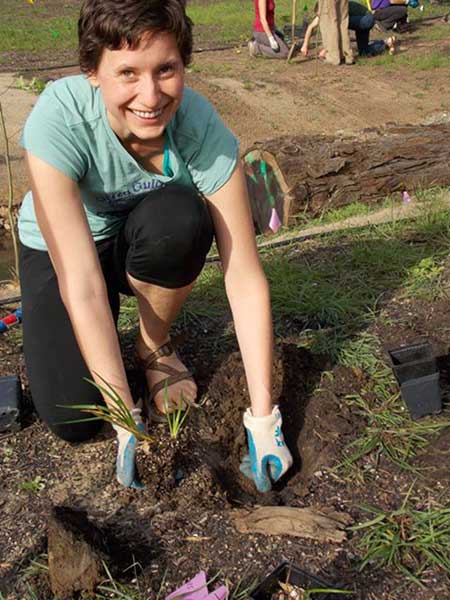 Our Guest Student Program offers short-term residency to those interested in beginning or continuing Zen practice with the support of a community. Guest students participate in the daily life of Green Gulch, which includes several periods of zazen (sitting meditation), services (sutra chanting), morning and afternoon work (frequently of a physical nature), informal study and meals. We also offer zazen instruction, classes and lectures on Buddhism, and the opportunity for discussions and meetings with teachers and practice leaders.
The cost is $25 per day with a seven-day minimum. A $50 non-refundable deposit is due once you have received confirmation of your Guest Student stay. For more information please write the Guest Student Manager at ggfstudent@sfzc.org.
To Apply
Fill out the Guest Student Agreement form [PDF] and the Basic Residential Practice Application [PDF] and return both to the Guest Student Manager at ggfstudent@sfzc.org. Review the Green Gulch Residential Guidelines (Shingi) as part of the process of filling out the applications.
Planning Your Stay
The guest student program begins on Saturday evenings with dinner and an opening orientation. A full week's stay (Saturday to Saturday) is requested. Longer stays may be scheduled on a week-to-week basis for up to six weeks. (A minimum stay of three nights may be possible for those with recent guest student experience, depending on space availability.) Please note the "Interims" section below while planning your stay.
Rooms are shared and space is limited. Booking is done in order of applications received.
In the spirit of maintaining the Buddhist precepts, guest students are asked to refrain from drug or alcohol use and from initiating new sexual relationships during their guest student stay. We also discourage the use of tobacco while in residence.
Please discuss any concerns you may have with the Guest Student Manager before entering the program.
Suggested reading: Zen Mind, Beginner's Mind by Shunryu Suzuki.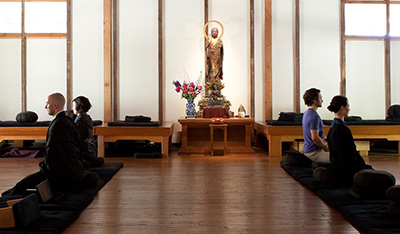 Schedule
The Guest Student Program includes complete participation in the schedule.  It is requested that any exceptions be communicated to the Guest Student Manager.
Monday, Tuesday, Wednesday and Saturday
5:00am  Zazen (meditation)
5:40    Kinhin (walking meditation)
5:50    Zazen
6:30    Service (chanting and bowing)
7:00    Soji (temple cleaning)
7:15    Breakfast (silent first ten minutes)
8:30    Work Meeting (in enclosed deck area upstairs)
8:40    Work (meet the Guest Student Manager and
           other guest students in the dining room)
12:15pm Lunch (silent first ten minutes)
1:00    Work
3:15    End Work
5:15    Zazen
5:50    Service
6:00    Dinner
7:30    (or 7:50) Zazen (optional)

Thursday
Regular schedule through 11:00am
11:00am  Guest Student Tea
1:00pm  Lunch dishes. Afternoon and evening are free.
Friday
7:45am  Breakfast
Free Time
7:30pm  (or 7:50) Zazen (optional)
Sunday 
Regular schedule until 10:00am
10:15am  Lecture
11:15      Serve tea to Sunday visitors
12:15pm Lunch
Regular afternoon and evening schedule.
During Practice Periods there are additional scheduled periods of zazen in the evenings.
Interims
During the interim breaks there are no dharma talks or classes, and morning meditation begins at 5:50 am instead of 5 am. Please check the interim schedule for the year to be aware of these dates as you plan your guest student stay.