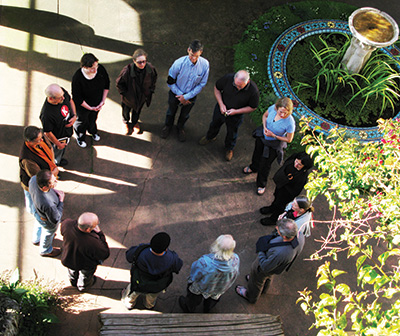 Weekly meeting: Saturdays, 8:50 am – 12:30 pm (can join at any time during the morning schedule)
Urban Gate Sangha (formerly Saturday Sangha) is for anyone who joins the zazen schedule during the weekdays and/or on Saturday. Within the container of traditional forms, members of this group participate in doanryo training, temple care and kitchen practice, and study.
During the week, participation includes zazen with the invitation to join the doanryo. To join, simply arrive for evening zazen at 5:20 pm and introduce yourself to the Ino.
On Saturdays, the Urban Gate Sangha group bows in together in the courtyard at 8:50 am. The Saturday schedule is more full, typically ending at 12:30, and includes zazen, a Dharma talk, tea and cookies, and study with a teacher.
See the Daily Schedule for details.
Urban Gate Sangha is a wonderful way to develop and deepen practice by joining with a peer group of like-minded friends. Experience the transformative power of shared practice, where we support and nourish each other! If interested, please contact Catherine Spaeth at catherine.spaeth@sfzc.org for more information.
Urban Gate Sangha does not meet on the day of one-day sittings or during sesshins.