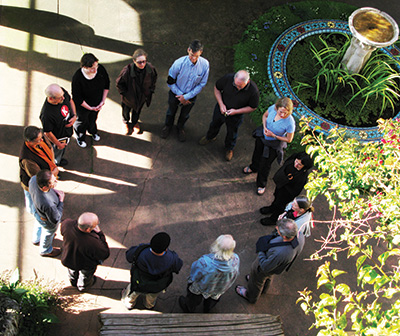 Saturday Sangha will continue to meet online.
Saturdays, 11:20 am – 12:20 pm
---
Saturday Sangha does not meet on the day of one-day sittings or sesshins. See the city center calendar.
The Saturday Sangha is a group that meets each week to help care for the public program at City Center. Individuals in the group learn a variety of basic zendo jobs, sometimes help in the kitchen, and generally pitch in to help the Saturday program. After the Saturday lecture the group meets for lunch and discussion with the tanto, or head of practice, at City Center. The Saturday Sangha is designed for non-resident students who have a regular sitting practice and are willing to make a commitment to help support the practice at Zen Center. This group is a wonderful way to develop and deepen practice life by joining with a peer group of like-minded friends. Those interested in joining the Saturday Sangha, please call the front office for information (415-863-3136), email the City Center tanto at cctanto@sfzc.org, or come to the Saturday program when there is a public lunch (most Saturdays) and join the group discussion at noon.