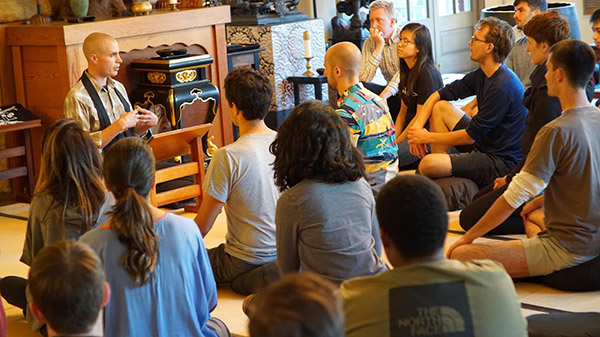 City Center hosts a variety of ongoing drop-in study, discussion, and practice groups that meet regularly and welcome new participants. See the groups listed below for details about what is offered.
These groups are now meeting via Zoom and the times may be different than what is listed here.
Click on the group you are interested in for more information and a link.
Saturdays, once a month, 1 – 3 pm, followed by tea
Meets in the Sangha Room at 300 Page Street
The LGBTIQ Queer Dharma Group is an open group, and newcomers are welcome.
Mondays, 7:30 – 9 pm at City Center
Meditation in Recovery Program info for City Center and Hartford Street Zen Center.
Tuesday evenings, 7:15 – 8:45 pm
Meets in the Buddha Hall, 300 Page Street
Thursdays, 7:30 pm
Open to all. This weekly 35-minute meditation is followed by optional Q&A time.
Saturdays, 8:50 am – 1 pm
Saturday Sangha is a group that meets each week to help care for the public program at City Center. Individuals in the group learn a variety of basic zendo jobs, sometimes help in the kitchen, and generally pitch in to help the Saturday program.
Jueves de 7:00 a 8:30 pm, Salón de Arte
Zen en Español, un espacio de encuentro donde compartimos la experiencia de explorar y comprender la práctica del Budismo Zen y su profunda relevancia en la vida diaria.
Monday evenings, 7:30 – 8:30 pm
Unpacking Whiteness gatherings explore whiteness and the structures of racism through a Zen Buddhist lens so that practitioners learn to skillfully engage with and transform white racial conditioning and white supremacist systems.