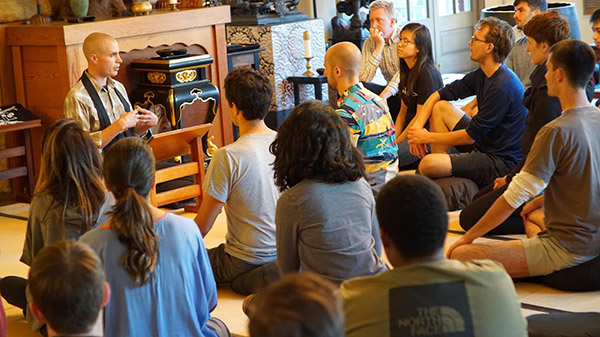 City Center is host to a variety of ongoing or drop-in study, discussion, and practice groups that meet regularly and welcome new participants (in some cases there is a pre-requisite to join). These include groups that offer support for those in recovery or living with depression, and focus groups for younger practitioners, women, Spanish speakers;  see below for details.
The LGBTIQ Queer Dharma Group is an open group, and newcomers are welcome. It meets Saturdays once a month, 1 – 3 pm, followed by tea, in the Buddha Hall at City Center.
Mondays, 7:30 – 9 pm at City Center
Meditation in Recovery Program info for City Center and Hartford Street Zen Center
Tuesday evenings, 7:00 – 8:30 pm
Meet in the Buddha Hall, 300 Page Street
Thursdays, 7:30 pm
Open to all. This weekly 35-minute meditation is followed by optional Q&A time.
Saturdays, 8:50 am - 1 pm Saturday Sangha is a group that meets each week to help care for the public program at City Center. Individuals in the group learn a variety of basic zendo jobs, sometimes help in the kitchen, and generally pitch in to help the Saturday program.
Jueves de 7:00 a 8:30 pm, Salón de Arte
Zen en Español, un espacio de encuentro donde compartimos la experiencia de explorar y comprender la práctica del Budismo Zen y su profunda relevancia en la vida diaria.
Sunday afternoon, once a month, 4 – 6 pm
Unpacking Whiteness gatherings explore whiteness and the structures of racism through a Zen Buddhist lens so that practitioners learn to skillfully engage with and transform white racial conditioning and white supremacist systems.