Develop skills and earn practice period scholarships
Students in the Work Practice Apprenticeship Program (WPA) are eligible to earn practice period scholarships to be used at one of San Francisco Zen Center's three locations (Tassajara, City Center and Green Gulch). Summer students participating for the complete guest season and three weeks of work period (five months) are eligible to earn two practice period scholarships, while students participating in three consecutive months may earn one practice period scholarship.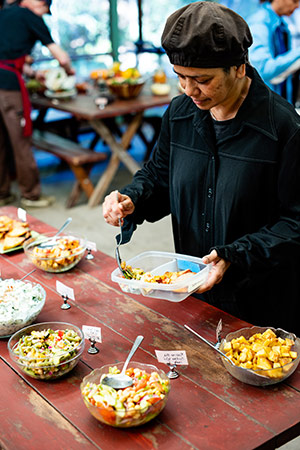 Those who are interested in applying for the WPA Program must plan their arrival and departure dates so that they fulfill the three or five month requirement. To earn one practice period scholarship, the three months must occur within the dates of guest season. In order to earn two practice period credits, students must work the entire guest season and three weeks of work period. Those who decide after they arrive that they'd like to apply for the WPA program may explore options with the Director.
Eligibility for a scholarship does not guarantee acceptance to a practice period or center, which is determined through a separate application procedure. Also, admission into a practice period at Tassajara requires that applicants have completed at least one practice period at either City Center or Green Gulch first.
Work Practice Apprentices are eligible to receive a scholarship of $25 per month for the purchase of personal necessities. Students who have not been accepted into the WPA program, or who work less than three months during the official guest season, will neither earn a practice period scholarship nor receive the $25 scholarship. Direct questions to the Director for further clarification. Get more information on how to apply.
For those interested in joining the summer kitchen staff as apprentices Tassajara offers a five-month Tassajara Zen Kitchen Apprenticeship. Students with an interest in culinary work may apply for this apprenticeship.