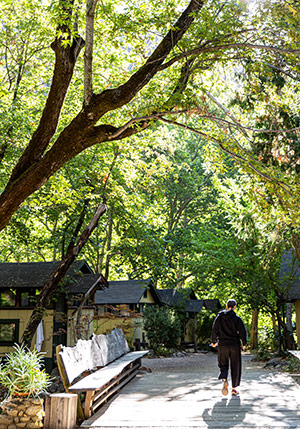 The Guest Practice Program offers the opportunity to meditate and work alongside Tassajara's residents and monks. Participants attend early morning meditation, and work 3½ hours daily. Afternoons and evenings are free. Participants are expected to work the morning of their departure.
*Note: For health & safety reasons all Guest Practice Program participants will enjoy meals in the guest dining room.
All participants in the Guest Practice Program must follow the daily schedule:
06:15 am Zazen (meditation)
07:15 am Morning service (chanting and bowing)
07:40 am Soji (temple cleaning)
08:00 am Breakfast
09:00 am Work Meeting
09:15-12:30 Work with assigned resident work crews
12:30  pm Lunch
06:30 pm Dinner
The Guest Practice rate is $80 per person per day for shared accommodations. A minimum stay of three (3) days is required.
Please note that the Guest Practice schedule is not compatible with participating in a retreat or with caring for a child. Registration for the Guest Practice program is dependent on availability of Guest Practice housing. For questions, please email reservations@sfzc.org.