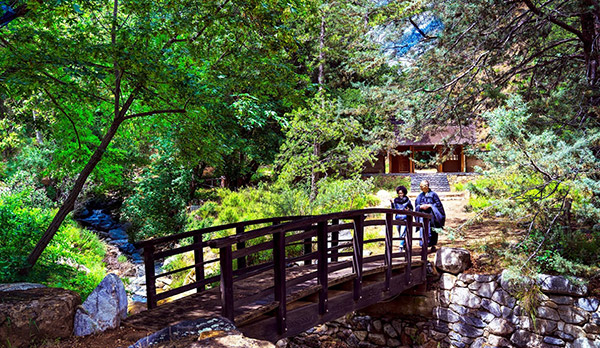 One of three practice communities that comprise the San Francisco Zen Center, Tassajara is nestled in a mountain valley, inland from the Big Sur coast, in a remote part of the Ventana Wilderness. Tassajara is dedicated to San Francisco Zen Center's mission, which is "to embody, express, and make accessible the wisdom and compassion of the Buddha."
In 1967, Tassajara was established as the first Soto Zen training monastery on the West Coast, and offers monastic training periods during the fall and winter months. Each year from May to September, Tassajara, or Zenshinji (Zen Heart-Mind Temple), as it is known formally, opens its gates to students and guests alike for the summer guest season
Tassajara is . . .
Welcoming
While Tassajara is an unparalleled experience; it is also a place to be a part of, to create in, and to experience a new sense of community and family. All are welcome to come as they are, wherever they may be on the Path, and join together as stewards of the land and friends to each other, sharing life's challenges together.
Rejuvenating
The hot springs wash away the grit and dust of daily living. Carefully prepared food warms the belly and nourishes the soul. The flow of the creek supports becoming more present. The air, the skies, and the stars are clear and untainted by city life. Surrounded by inspiring mountain vistas, visitors find space to connect more deeply with their authentic selves. Away from the distractions and demands of daily life, each one can explore this unconventional way of being. Learn more about the Tassajara Hot Springs.
Abiding
Tassajara's history begins with the indigenous peoples of the coastal tribes, and winds its way through the arrival of European settlers, to the development of this Zen community today. Half a century ago, Tassajara became the first Soto Zen Buddhist monastery established outside of Japan, and continues to welcome visitors, students and teachers of all walks of life. Today, as ever, Tassajara belongs to everyone. Learn more about the Tassajara Zen Monastery.
---
The following videos, recorded at Tassajara in 2013, present an interview with Zen Center's former central abbot, the late Myogen Steve Stücky, who passed away December 31, 2013.
Part 1 (9:19) presents some very general background on Tassajara, as well as on Zen and meditation.
Part 2 (13:29) gives more detail about daily life at Tassajara and a brief history of Zen.
Special thanks to Ryan Gray, a retreat participant and videographer, for making these videos available.
---
Read more about Tassajara Zen Mountain Monastery in the media.