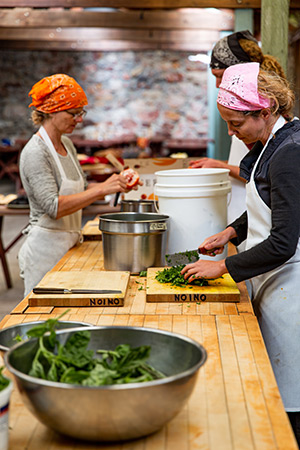 The duration of summer work practice is flexible. Students can stay for a minimum of five days or up to five months. However, to earn a scholarship (including room, board, and tuition) for a future period of intensive Zen study at one of the three practice centers, students should apply for the Work Practice Apprentice Program (WPA), which requires a commitment to Tassajara of 3 - 5 months during the Summer Guest Season.
There is also a Zen Kitchen Apprenticeship Program, which provides the opportunity to learn about vegetarian cooking while engaging in Zen practice with the Tassajara community.
For all students, the daily schedule includes a one-hour period of zazen every morning at 5:50 and a 40-minute period in the evening at 8:40. There are also two daily services of chanting scriptures and bowing. Work is approximately six-and-a-half hours per day for four days, followed by a day off. All students are asked to make a commitment to completely follow this basic schedule. An additional three periods of optional informal zazen and an optional noon service are available daily. Regular lectures and classes on Buddhism are offered, in addition to the opportunity for private meetings with teachers about one's meditation and work practice. Those here for more than one month will meet regularly with a practice leader.
During the summer work focuses on taking care of the summer guests and the maintenance of the monastery. There are several work crews, including the kitchen, dining room, cabin crew, shop, office, garden, and bathhouse. Please let Tassajara know of any relevant work skills and any physical restrictions that might limit work. Share preferences but be flexible in adapting to the community's needs.
Although Tassajara is open to the public during the summer, it is fundamentally a monastic community. All participants in the summer work-practice program commit to following our Guidelines for Summer Practice in order to support the training and practice. Students are not permitted to use drugs or alcohol, nor to begin sexual relationships while at Tassajara. Clothing should be modest—e. g. , no short shorts, exposed midriffs or thin-strapped tank tops, and no tight-fitting or otherwise revealing clothes. The use of tobacco at Tassajara is strongly discouraged.
The book Zen Mind, Beginner's Mind by Shunryu Suzuki Roshi gives a strong sense of the basis of the practice at Tassajara and is highly recommended. Other suggestions for books on Zen practice can be found in the Introduction to Zen Reading List.
Those who are considering residential practice should also refer to the following documents:
Application Process 
The dates for the 2022 summer session are April 5 through September 11, although apprentices are welcome to stay as late as September 26.
Application Timeline and Important Dates
First available date to arrive: April 5
Last available date to depart: September 26
Full details on the application process are available here:
Tassajara Community Life
Tassajara is in a remote location, and Work Practice Apprenticeships offer no opportunity to travel outside of the valley except during vacations. Community living at Tassajara can be an intense experience. Accommodations are rustic, and students live in shared cabins. Apprentices share meals together, work together, and often spend free time together. Being a part of the community requires tolerance, patience, respect, and openness to new ideas and perspectives. Acceptance to this program entails a commitment to collective responsibility—going the extra mile to get things done.
Weather Conditions
Weather conditions can vary widely; temperatures can drop significantly at night and there may be rain during April, so students should bring warm layers and a warm sleeping bag, and also be prepared for high temperatures during the summer season. In July and August temperatures can rise into the high 90's and sometimes above 100 degrees Fahrenheit.
The Daily Zen Practice and Work Schedule
The daily schedule for all work-practice students at Tassajara is structured to allow regular participation in twice-daily meditation periods and chanting services, as well as a brief community-wide morning work period or "soji". In addition, students are trained for and scheduled to participate in such zendo jobs as ringing the wake-up bell and firewatch. All students attend weekly Dharma talks and lectures and may attend classes given by visiting and residential teachers on a broad range of subjects throughout the summer. Optional half-day sittings are scheduled monthly and are open to students on their days off.
General Daily Schedule
Morning
5:00 Informal Zazen
5:20 Wake-up Bell
5:50 Zazen
6:50 Service
7:15 Soji (Temple Cleaning)
7:30 Breakfast
8:30 Work Meeting
11:50 Noon Service – optional
11:55 End work

Afternoon
12:00 Lunch
1:00 Work Meeting
4:30 End work
4:30-5:45 Silent Bath Time
5:00 Informal Zazen
Evening
5:50 Service
6:00 Dinner
7:45 Informal Zazen
8:40 Zazen
9:20 Three Refuges
10:30 Firewatch
Following the schedule is not easy. Students must be honest with themselves and with Tassajara about their ability, motivation, desire to work hard, and interest in learning new skills through work experience and engagement with Zen practice.
Here is how one student experienced the summer at Tassajara:
"My summer at Tassajara was unlike anything else. No matter how much one tries to put the experience into words you'll never know until you go there and really feel it for yourself. With very little experience in Soto Zen or intentional community, I signed up will full expectations but no specifications that the summer was to be, to say the least, challenging. I entered the schedule with an open heart and a true "beginner's mind". It was the happiest I had been in years. But like anything new... at some point, the honeymoon phase wears off. Every single day felt like Tassajara was breaking me down and building me stronger than before. Physical, mental, and emotional muscles were developing, walls and filters were coming down, and the things most important in life were remembered. It was painful. It was beautiful. It was so much more than I could have imagined. The best part of it is you're surrounded by a group of people that are going through the exact same thing. It is truly amazing how far a person can be stretched but still feel whole. By the end of the summer, we were all doing things unimaginable at the beginning. It was a true spiritual experience that was filled with love, laughter, and some of the best people I have ever met in my life."
Expenses
There is a one-time application fee of $75 for all new Summer Work Practice Students. All meals and housing are provided. Aside from the necessary costs such as travel to/from Tassajara, expenses are minimal.
Recreation, Travel, and Days Off
Tassajara is nestled deep in the rugged Santa Lucia Mountain Range. During days off (every fourth or fifth day) and breaks, students are welcome to enjoy the spring-fed swimming pool, the Japanese-style hot springs at the bathhouse, Tassajara Creek, and the many hiking trails. Work Practice Apprentices may also participate in guest retreat workshops that have been opened to students. This might include workshops on yoga, Tai Chi, brush painting, writing, and other subjects.
Tassajara is located at the end of a narrow 14-mile dirt road. Personal transportation (preferably four-wheel drive) is allowed at Tassajara, but most guests and students park their vehicles in Jamesburg (at the beginning of the dirt road) and carpool in with another student or guest, or with the daily stage or the regularly scheduled town trips.
Food, Health, and Safety
Tassajara serves all-vegetarian meals. There is no kitchen access available for personal use. While special diet meals are not available, there is substantial variation in what is served. Those with special dietary needs must be forthright in their application about what their bodies can or cannot tolerate.
Since much of the temple work may involve a moderate to high amount of lifting, carrying, and bending, students must be aware of the physical limits of their bodies and know to stop working before an injury occurs. Safety is a priority for everyone at Tassajara. As part of the application process, accepted applicants must fill out a medical information form and sign a waiver of general liability.
Visit City Center or Green Gulch
All applicants are encouraged to visit one of the other centers before applying: City Center in San Francisco and Green Gulch Farm in Marin County. It works best when all applicants have a good understanding of San Francisco Zen Center before they come to Tassajara, and thus applicants are encouraged to spend time as guest students first, volunteer, or take a class at these centers. It's a great way to get a taste of what life at a Zen temple is like, and also helps staff and residents to get to know them.