Tassajara is no longer accepting applications for the Summer 2022 work practice programs.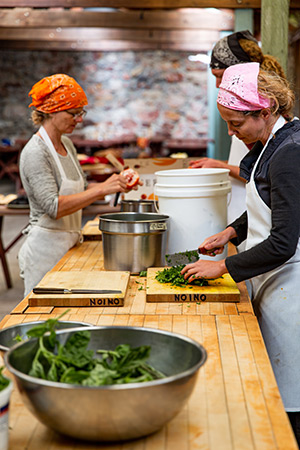 Summer work practice at Tassajara offers the opportunity to live, contribute, and study the self in an intimate community deep in the wilderness. The monastic summer focuses on activity: caring for guests, welcoming teachers, scholars, and new students, as well as manifesting a culture centered on Zen practice and connection and joy.
Offerings
Summer at Tassajara offers a wide array of activities to engage body-mind. The experience can range from simple refuge to deeply transformative, depending on one's engagement. For all students, the day begins with zazen (seated meditation) and ends with zazen or a Dharma talk. Before each meal, the community engages in traditional Zen services of bowing and chanting Buddhist scriptures. The work day, caring for the grounds and the guests, is about six-and-a-half hours. The bathhouse is reserved for student use in the late afternoon to allow for silent, contemplative bathing.
All students are asked to commit to following the schedule completely, with some variation depending on their work role (see below). In addition, students are trained to perform traditional Zen monastic roles, including playing instruments in services and ringing the wake-up bell.
Each week includes at least two formal dharma talks by resident and/or visiting Zen teachers. Dharma events may also be offered by visiting retreat leaders, including poetry readings, performances, and discussions. Previous events have included Naomi Shihab-Nye, Pico Iyer, and Brother David Steindl-Rast. Students may also join retreat sessions,if they are offered. These include yoga retreats, taichi or brush calligraphy classes with Kaz Tanahashi. Two student-only classes or lectures are also presented each week by resident teachers or visiting Buddhist scholars. Visiting teachers have included Rev. angel Kyodo williams, Red Pine, and Steven Heine.
Students may also meet privately with resident teachers to discuss their meditation and work practice. Those participating in the Summer Work Practice program for more than one month will meet regularly with a practice leader. Visiting Zen teachers may also offer practice discussion. Optional half-day sittings are scheduled monthly and are open to students on their days off.
Body work for students is offered throughout the summer at no cost. This includes massage, shiatsu, acupuncture, and many other modalities.
The Daily Zen Practice and Work Schedule
Following the schedule can be challenging. This rigorous commitment requires honesty with the community and with oneself. Living at Tassajara requires attentiveness to motivation, wish to contribute, and openness to learning new skills through work and Zen practice.
General Daily Schedule
| | |
| --- | --- |
| Morning |   |
| 6:00 am | Wake-up Bell |
| 6:15 am | Zazen |
| 7:15 am | Service |
| 7:40 am | Soji (temple cleaning) |
| 8:00 am | Breakfast |
| 9:00 am | Work Circle |
| 12:15 pm | Noon Service (optional) |
| 12:30 pm | Lunch |
| Afternoon |   |
| 1:30 pm | Work Circle |
| 5:00 pm | Bath & Exercise break |
| 6:15 pm | Evening Service |
| 6:30 pm | Dinner |
| 8:15 pm | Zazen or Dharma Event |
| 8:55 pm | Three Refuges |
| 9:45 pm | Firewatch |

Recreation, Amenities, and Climate
Tassajara is nestled deep in the rugged Santa Lucia Mountain Range, in the heart of Esselen lands. It has been a site of healing and nourishment for centuries, and students are encouraged to take good care of themselves. During personal days and breaks, all are welcome to enjoy the spring-fed swimming pool, the Japanese-style hot springs at the bathhouse, the many cooling swimming holes along Tassajara Creek, the extensive Buddhist library, and our award-winning yoga space at the Retreat Hall (at times when a retreat is not in progress).
Hiking trails stretch in each direction. These trails lead to sandstone formed Wind Caves, offer stunning views from Flag Rock, down into the natural cathedral of Arroyo Seco, through the ancient petroglyph dotted Indian Caves, and the great tumbling untouched and unnamed chaparral wilderness. Few people make it this far out, allowing each plenty of space to commune with the wild.
The weather varies widely over the day and night. The days are generally warm to hot, extending into the 90s and 100s with very low humidity. Keeping cool in the creek, wetting down clothing, and drinking the provided electrolytes are recommended. No air conditioning is provided. Nights and mornings are generally cold to cool, in the 50s or 60s. Students should bring a warm sleeping bag and additional bedding layers. Sheets, pillows, and some bedding are provided. Rain may continue into April, with no precipitation for the remainder of the summer.
Tassajara Community Life
Community living at Tassajara can be an intense and rewarding experience. Most accommodations are quite rustic, and new students often live in shared cabins. Everyone eats together, works together, bathes together, and often spends free time together. This intimate practice can lead to lifelong friendships and inevitable friction. The teachers and leaders of Tassajara have much experience living this way and can offer guidance in negotiating both the joys and challenges of community living.
Shunryu Suzuki Roshi's book Zen Mind, Beginner's Mind offers a sense of the practice available at Tassajara and is highly recommended. Other suggestions for books on Zen practice can be found in the Introduction to Zen Reading List.
Please also refer to the following documents:
Commitments
The dates for the 2022 summer session are April 5 through September 11, although apprentices are welcome to stay up until September 26.
Students can apply for a stay of a minimum of two weeks or up to five months. However, to earn a practice period credit (including room, board, and tuition) for a future period of intensive Zen study at one of the three practice centers, students should apply for the Work Practice Apprentice Program (WPA), which requires a commitment of 3 – 5 months during the Tassajara Summer Guest Season. There is also a Zen Kitchen Apprenticeship Program, which provides the opportunity to learn about vegetarian cooking while engaging in Zen practice with the Tassajara community.
There are several work areas, including the kitchen, dining room, cabin crew, shop, office, garden, and bathhouse. Please let Tassajara know of any relevant work skills and any physical restrictions that might limit work. You are welcome to share preferences for areas of work, but asked to be flexible in adapting to the community's needs.
Although Tassajara is open to the public during the summer, it is fundamentally a monastic community. All participants in the summer work practice program commit to following the Guidelines for Summer Practice. Students are not permitted to use drugs or alcohol, nor to begin sexual relationships while at Tassajara. Clothing should be modest—e.g. no short shorts, exposed midriffs or thin-strapped tank tops, tight-fitting or otherwise revealing clothes. The use of tobacco at Tassajara is strongly discouraged.
As mentioned, Tassajara is located deep in the Ventana wilderness. During their first summer, Work Practice Apprenticeships are requested not to travel outside of the valley except during vacations. Those with essential medical needs may discuss them with the director. Personal vehicles (preferably four-wheel drive) are allowed at Tassajara, but most guests and students park their vehicles in Jamesburg (at the beginning of the dirt road) and carpool in with another student or guest, or with the daily stage, or the regularly scheduled town trips.
Expenses
There is a one-time application fee of $75 for all new Summer Work Practice Students. All meals and housing are provided. Aside from the necessary costs such as travel to/from Tassajara, expenses are minimal.
Credits and Earning Practice Periods
Students in the Work Practice Apprenticeship Program (WPA) are eligible to earn practice period credits to be used at one of San Francisco Zen Center's three locations (Tassajara, City Center, and Green Gulch). Summer students participating for the complete guest season and three weeks of work period (five months) are eligible to earn two practice period credits, while students participating in three consecutive months may earn one practice period credit. The three months must occur within the dates of guest season, not including work period.
Those who are interested in applying for the WPA Program must plan their arrival and departure dates so that they fulfill the three or five month requirement. Those who decide after they arrive that they'd like to apply for the WPA program may explore options with the Director.
Eligibility for a credit does not guarantee acceptance to a practice period or center, which is determined through a separate application procedure. Also, admission into a practice period at Tassajara requires that applicants have completed at least one practice period at either City Center or Green Gulch Farm beforehand.
Work Practice Apprentices are eligible to receive a credit of $25 per month for the purchase of personal necessities. Students who have not been accepted into the WPA program, or who work less than three months during the official guest season, will neither earn a practice period credit nor receive the $25 monthly credit.
Food, Health, and Safety
Tassajara serves all-vegetarian meals. There is no kitchen access available for personal use. While special diet meals are not available, there is substantial variation in what is served. Those with special dietary needs must be forthright in their application about what they can or cannot tolerate.
Many of the tasks involved in the temple work areas involve a moderate to high amount of lifting, carrying, and bending. Students should be careful of their physical limitations and energy levels in order to prevent injuries. Safety is a priority for everyone at Tassajara. As part of the application process, accepted applicants must fill out a medical information form and sign a waiver of general liability.
Application Process 
Application Timeline and Important Dates
First available date to arrive: April 5
Last available date to depart: September 26
Full details on the application process are available here:
Visit City Center or Green Gulch
All applicants are encouraged to visit one of the other centers before applying: City Center in San Francisco and Green Gulch Farm in Marin County. Applicants are encouraged to spend time as guest students, to volunteer, or participate in a class at these centers before applying for Tassajara's Summer Work Practice. These are ways to get a taste of what Zen temple life is like, and also allows the staff and residents to get to know them.