Summer 2023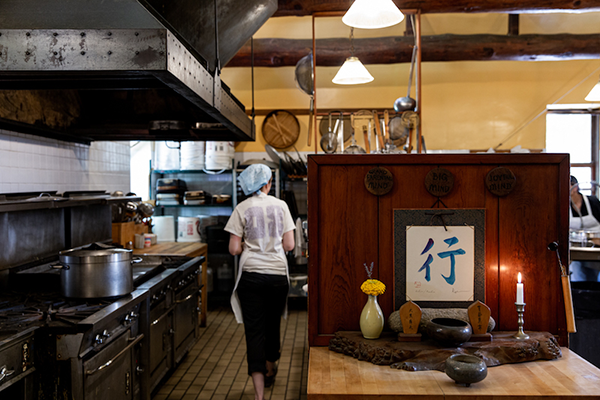 Tassajara is putting out a call to former students and residents for Summer 2023!

Summer season 2023 will be a unique summer at Tassajara. Instead of the traditional guest season of the past, we will be hosting a series of Sangha Weeks. Each week, affiliated sanghas will come for five days of zazen, work practice, and study with their teacher.
We would like to staff Tassajara with a core crew of experienced students who will hold the container of Zen practice to support the Sangha Weeks as we all take care of Tassajara together. It will be a summer of guest and host practicing and working side by side, eating and meditating together, caring for Tassajara and one another in a simple and warm-hearted way.
Visiting Sangha Week participants' schedule will include half-days of work practice. Some sanghas will have their half-day of work practice in the morning and some in the afternoon. All visiting sanghas will arrive on Tuesday and depart on Sunday.
Summer Students' regular schedule will include full work practice days and begin on Tuesday morning with breakfast at 7:30 am. Students have Interim days with no schedule between the Sangha Weeks (see schedule below), from Sunday Sangha Week departure to Tuesday morning arrival. During the past few summers, we've had a similar schedule and we have found it very supportive.
Summer Student Schedule 2023
5:30 wake up bell
6:00 zazen
7:00 morning service
7:30 breakfast
8:30 morning work circle
12:00 lunch
1 pm afternoon work circle
5:50 evening service
6:00 dinner
8:00 zazen
8:40 refuges
Sunday Schedule
5:30 am wake up bell
6 am zazen
7 am morning service
7:30 am breakfast
8:30 am morning work circle
9:30 am Bag Lunch
Schedule ends for Interim days
Interim: each student will have one Interim task, 3 hours of work practice time (either Sunday or Monday) with flexible timing depending on task.
Monday Interim Day, no schedule
Tuesday full schedule begins again with 7:30 am breakfast
We are excited about this "one body of practice" model—it will be a nourishing and joyful summer. Come join us!
With a deep bow and a warm welcome,
Lauren Bouyea
Tassajara Director
Jamie Meyerhoff
Incoming Tassajara Director
We ask that applicants for 2023 Tassajara summer have prior residential experience at Tassajara, Green Gulch Farm, or City Center. New students are welcome to apply if they provide a recommendation from their teacher. Please fill out the Tassajara Summer Student Application and be in touch if you have any questions: zmcdirector@sfzc.org
If you have never been a student at Tassajara, Green Gulch Farm, or City Center, please first apply for a guest student stay or apprenticeship at Green Gulch Farm or City Center. See our Live the Temple Life page for more information.