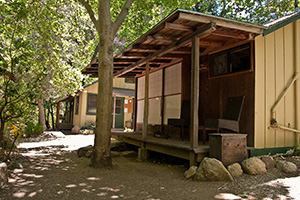 Guest Accommodations at Tassajara are humble and cozy, ranging from private cabins to shared dorms. Some overlook the creek, others are nestled inside quiet hideaways tucked along the mountainside; there are many options for settling in at Tassajara.  Prices listed on the Room Rates & Policies page reflect the cost for a one night stay. Bathing facilities are in the bathhouse, and all cabins and rooms have a private toilet and sink except as noted.There is a two-night minimum stay on weekends (Friday-Sunday).
Cabin Types
 
Stone Rooms and Pine Rooms, Cabin 3B, Cabin 14B, and Cabin 15.  These charming cabins offer a private deck with a view of the creek; some are original Tassajara structures, particularly the Stone Rooms and Pine Rooms. These more spacious cabins are rustic and have delightful features -- they have private bathrooms, are cooler in summer and warmer in April and May. All Stone and Pine rooms are suitable for children and are closer to the bathhouse.
Yurts, Cabin 3A, and Cabin 14A. With similar character to Creekside Cabins, these dwellings open to the main path running through Tassajara. Many have decks offering comfort and seclusion, particularly the Yurts. Yurt 1, closest to the pool, is ideal for guests with children.
Redwood Tatami Cabins and Redwood Cabins. These endearing cabins are in the style of some of Tassajara's early lodgings and typically accommodate two guests. Some of these cabins feature traditional Japanese tatami mat flooring made of thickly woven rush grass. Redwood Cabins have regular beds, while Tatami Cabins have folding foam mattresses (shikibuton) which go directly on the tatami. All Redwood & Tatami Cabins have private restrooms.
Sycamore Cabins 10 & 11.  Sycamore Cabins have shared restrooms. These cabins may be set up for a variety of shared housing, and are a great option for participating in a retreat with friends.
Dorms (with shared bathroom). We offer a Men's and Women's dorm.  They are shared housing, in a cabin style similar to Sycamore Cabins.
Other Important Info
Tassajara's Stone Office reception hours are 9am to 7pm. Please stop by the office and confirm your room assignment and availability before going to your room.
Check-in time is 3pm with late check-in offered until 7pm. Check-out is 11am. We offer space on our luggage deck for guests who will be lingering longer. Please check-out in person before departing.
Guest meals are served at 8am, 12:30pm and 6:30pm in the Dining Room. An optional bag lunch is available at 9:30am. Additional snacks and tea are available in the courtyard from 3:00pm to 4:30pm and at the self-service coffee/tea bar throughout the day.
Tassajara observes special quiet time hours to support the practice of year-round residents. Quiet time begins at 8pm and ends at 8:30am after temple cleaning following morning zazen and service.