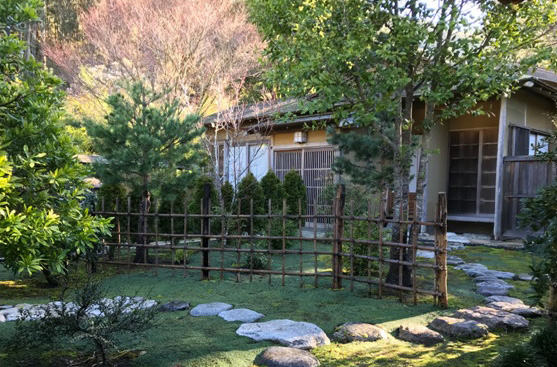 The Way of Tea is a practice and art that developed in the 15th and 16th centuries in close conjunction with Zen. The Green Gulch tea house is built in the traditional Japanese style within the enclosed space of a tea garden, offering an intimate and protective setting for classes and tea gatherings. The tea program is under the direction of Christy Bartlett Sensei, Director, Urasenke Foundation of California.
For all tea gatherings and classes, please bring a pair of clean socks to wear in the tearoom and wear comfortable clothing; long (over-the-knee) skirt or pants are appropriate.
For more information, please contact the Green Gulch office at 415.383.3134.
Join these monthly gatherings in the quiet, timeless setting of the tea house for conversation, a traditional Japanese sweet, and a bowl of matcha (whisked green tea). The role of a guest is simply to be willing to be fully present and open to the possibilities of this particular gathering of people, this particular time and space. Please register in advance.
Contact Green Gulch to plan a tea gathering for your friends, family, school, or professional group.
The introductory series of ten lessons, held in the Green Gulch teahouse, teaches the basics of both making tea and being a guest at a tea gathering.