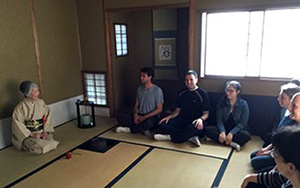 In the Sowing the Moon Teahouse at Green Gulch Farm
Sundays, 1:30 – 3 pm
These monthly gatherings in the quiet, timeless setting of the tea house for conversation, a traditional Japanese sweet, and a bowl of matcha (whisked green tea). The role of the guest is simply to be willing to be fully present and open to the possibilities of this particular gathering of people, this particular time and space. A brief instruction will be given; no prior experience necessary. Please register in advance.
Upcoming Tea Events:
What To Wear
Please bring clean socks to wear in the tea room as well as a handkerchief. Wear comfortable clothing; a long (over-the-knee) skirt or long pants are appropriate.
Fees
Please register in advance: $25
Registration 
Use the Register Online button on the event page for the date you wish to attend. Or call the Green Gulch Farm main office at 415.383.3134 or the SFZC Reservations Office at 888.743.9362 or 415.475.9362.
For more information about the tea program, please call 415.383.3134 or email tea@sfzc.org.