The Tassajara Zen Kitchen Apprenticeship Program is an opportunity to gain hands-on experience in vegetarian cooking while working in a Zen kitchen that integrates Buddhist practice into every aspect of the work.
Tassajara Cooking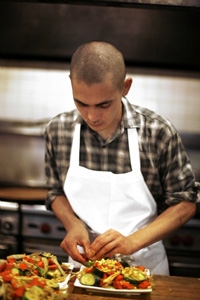 For nearly 50 years, Tassajara cooking has nourished the growth of Zen Buddhism in America. It has satisfied generations of monks, summer students and guests with delicious and innovative meals that have earned it an international reputation.
The inspiration for Tassajara's food and cooking style comes directly from Dogen Zenji, the 13th c. founder of Zen Buddhism in Japan. Dogen so revered the teaching he received from monastery cooks that he wrote a set of instructions for running the kitchen—the Tenzo Kyokun. Shunryu Suzuki Roshi, the founder of San Francisco Zen Center, supported creative expression in all aspects of life, including developing the cooking style of the Tassajara kitchen.
The residents who helped to found Tassajara created fresh styles of vegetarian cuisine, emphasizing mindful preparation and a sincere and joyful approach. Edward Espe Brown (author of The Tassajara Bread Book), Annie Somerville (executive chef of Greens Restaurant in San Francisco), and Deborah Madison (author of Vegetarian Cooking for Everyone) helped change the way people think about vegetarian cooking. Today, the Tassajara kitchen continues to produce world-class vegetarian food, incorporating healthy approaches to cooking, seasonality, and a farm-to-table style that emphasizes the integrity of the ingredients.
Zen Practice and Zen Training
Work has always had a special place in Zen Buddhism. Suzuki Roshi continued Zen's "chop wood, carry water" tradition by teaching that work was as important to Tassajara's practice as meditation. Immersion in a Buddhist kitchen involves wholehearted engagement in the tasks at hand, as well as attention to detail and a commitment to maintaining a harmonious workplace. Apprentices have the opportunity to learn how to apply Buddhist principles in the day-to-day practice of offering food.
Apprentices learn and develop their craft by taking part in the work necessary to produce three guest meals, three student meals and one picnic-style lunch buffet, feeding 150 guests and students every day. As the primary kitchen staff, apprentices are responsible for food preparation, washing dishes and creating student meals. There are also opportunities to assist cooks in making guest meals and to help prepare the daily picnic lunch.
The work at Tassajara is demanding and requires an open mind, an open heart and a positive attitude. Conditions in the kitchen can be challenging. The pace is quick, kitchen temperatures during the summer are often high, and supplies can be limited by the remoteness of our location. The kitchen is often crowded, with many people contributing to the meals. Yet the people who work in the Tassajara kitchen feel deeply rewarded by the experience.
Sample Kitchen Schedule
Below is a sample of what a typical kitchen schedule looks like. Schedules may vary (breakfast cooks, guest cook assists, afternoon fukuten, and bag lunch preparation will have variations in the schedule). The typical kitchen schedule week is to work three days, followed by a day off.
Zazen  5:50 am - 6:50 am
Service  6:50 am - 7:15 am
Soji (Temple Cleaning)  7:15 am  - 7:30 am
Breakfast  7:30 am
Work Meeting  8:30 am (Work until noon)
Kitchen Service at 9:15 am
15 minute break
Lunch  12pm - 12:45 pm
Lunch dishes  12:45 pm - 1:30 pm 
Afternoon break  1:30 pm - 4 pm
Dinner shift  4 pm - 6 pm
Dinner  6 pm - 6:30 pm
Dinner dishes  6:30 pm - 7:30 pm
Zazen  8:40 pm - 9:20 pm
Here is how one student experienced the kitchen: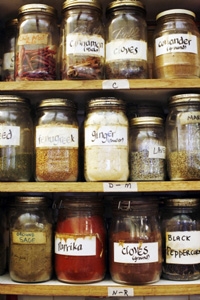 It's a kind of thrice-daily miracle that from late April to mid-September, the Tassajara kitchen feeds 70 Zen students and an equal number of Tassajara guests with a crew whose members have astonishingly different backgrounds. While some are long-time Zen students or accomplished cooks, others are new to Zen practice or learning to make meals for the first time. Each of us belongs here, and how a day in the kitchen unfolds is to some extent the unpredictable sum of our labors, moods, ideas, sounds and silences communicated through an intricate choreography of movement in a bustling bounded space.
In a Zen kitchen one's openness to experience—whatever it is, as potentially distinct from what one wanted or expected to have—counts as much as or more than culinary expertise. What does it mean to "take care of kitchen pots and tools as if they were our own eyes?" How does one handle a single leaf of green in such a way that it manifests the body of the Buddha? How does one respond when asked to do something differently than they've done it before? What happens when one realizes the onions one just medium-diced were supposed to be julienned? How does one deal with an irritating fellow crew member? What's the relationship to doing dishes and cleaning floors? How does one respect their bodies when they're exhausted? What is one's attitude towards the schedule, that fixed thing that makes the request to show up and show up and show up again?
There is a constantly shifting interplay between the individual and the kitchen as a kind of body made up of all the beings in it. That interplay is an endless source of challenge, insight, perplexity and wonder. The individuals never stop being individuals, but there are also powerful moments beyond language when our individual aims, concerns and conflicts drop away and everyone together functions as a single, joyful, artistic organism. Such moments are an unconstructed expression of oneself and others; they are a deep and remarkable expression of interconnectedness.
Kitchen apprentices are also actively engaged with Zen Buddhism by following the daily monastic schedule and participating in the life of a practicing Buddhist community. Like all other summer students, they are expected to attend daily morning and evening zazen meditation and to follow Tassajara's guidelines for monastic behavior. In addition, apprentices study Dogen's Tenzokyokun (or Instructions to the Cook) with the tenzo (head cook). Tassajara practice leaders meet regularly with apprentices to help bring Zen practice to life on the cushion, in the kitchen and throughout the whole of one's life.
Application Timeline and Important Dates for 2020
The dates for the 2020 summer session are April 30 through September 13, although apprentices are encouraged to stay through fall work period until September 27.
Applications process opens:  January 15
Deadline for applications:  March 20
Required dates for Zen Kitchen Apprentices:  April 7 - September 13
First available date to arrive:  April 7
Last available date to depart:  September 27
Applicants should take the time to think about their responses to the questions, and provide sincere and candid answers that will enable Tassajara staff to understand why their interest in the Tassajara Zen Kitchen Apprenticeship Program, what they hope to learn, and what they feel they can contribute.
What Tassajara Looks for in an Applicant 
Tassajara's Zen Kitchen Apprentice program attracts a diverse and dynamic group of people with many skills and interests, and of varying ages and backgrounds. Applicants need to have:
•A desire to learn about Zen practice within the context of living and working in a Zen Buddhist community
The capacity to enjoy the intensity of communal life in a remote wilderness setting
Interest in creating flavorful and healthful vegetarian meals
An openness to new experiences and a willingness to learn
Excellent interpersonal skills
Attention to detail
Focus and organization skills, and an ability to adapt to changing conditions
Positive attitude to life and work and the ability to balance work and play
How To Apply
To develop a clear expectation of what this experience entails, all applicants should read all related information carefully before completing the application.
1. The five-month Zen Kitchen Apprenticeship Program is within the regular Work Practice Apprenticeship Program. Please read the information on Summer Work Practice and Work Practice Apprenticeships.
2. Please complete the  Summer Work Practice Application (Downloadable Word Document)  and Tassajara Zen Kitchen Apprenticeship Application.
4.When submitting applications,  Include a check for $75 (Summer Work Practice Application fee) 
Tassajara will send an acknowledgement email within two weeks, and will notify all applicants whether accepted or not. Those not accepted may also be placed on a waiting list.
For more information, feel free to contact Tassajara by email at zmcdirectorassist@sfzc.org or call 831-659-2229.