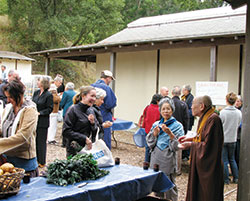 The Sunday morning program is not currently open for attendance, though the Dharma talk will be open beginning November 2022, with pre-registration and Covid protocols required.
Schedule
8:15 am   Meditation Instruction*
9:15 am   Meditation (zazen)
10:00 am  Dharma Talk
11:15 am  Tea
11:45 am  Discussion with lecturer
12:15 pm  Lunch: $10-15 donation requested**
General Information
Please note the appropriate clothing for the meditation hall: Skirts or pants are worn below the knee in length; shirts have sleeves covering the shoulders. Hats or other head coverings are traditionally not worn. Do not wear scented products or clothes laundered in scented products. 
*Doors close for the meditation instruction at 8:15 am; first time visitors should plan to arrive 10-15 minutes early.
**The only public lunch is on Sunday, for those who attend the dharma talk. Green Gulch is unable to provide meals for the public at any other time during the week.
An assisted hearing system is available for Green Gulch dharma talks. Please ask the ino for a receiver before lecture.
The meditation hall (zendo) is usually open daily for meditation.
Carpooling
Parking at Green Gulch is limited. For more information on ride sharing, visit the carpool page.