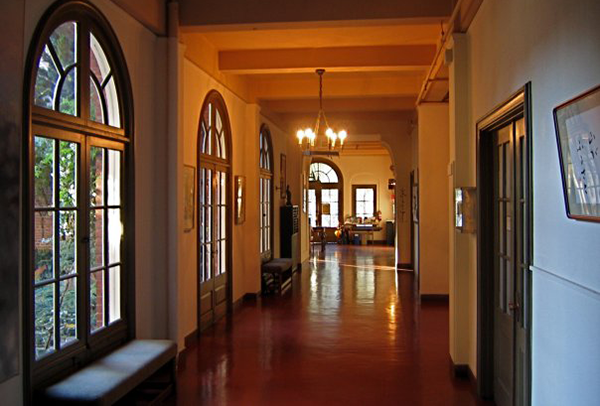 Beginning in January 2024, the City Center Renovation Project will require that application for residential practice opportunities at City Center be suspended. This will continue until the end of 2024 or the completion of the project. Applications may be accepted again beginning in November 2024 for 2025. To stay informed about the project and its progress, please sign up to receive Sangha News and check our social media communications (see links in the footer of the website).
Green Gulch Farm and Tassajara will continue to offer residential practice opportunities, as described on the Live the Temple Life page.
---
The City Center Mindful Activity Apprenticeship offers a three- to six-month immersion into temple life. Apprentices have the opportunity to practice zazen, engage in ceremonial life, meet with Zen teachers, and connect with a vibrant sangha in the heart of San Francisco. Most importantly, it offers an opportunity to study the self in the reflection of each activity. This apprenticeship can be done on its own, or it can be extended into the two-year Work Practice Apprenticeship.
Formal Zen meditation and training is the foundation of community life at City Center and is an integral part of the Mindful Activity Apprenticeship. While other crews sit morning meditation only, the Mindful Activity Apprenticeship schedule allows for both morning and evening meditation throughout the week as well as daily meetings and Dharma discussion with the crew to further explore Zen practice and study.
During daily work practice, apprentices will meet whatever need arises in the community. Apprentices may help wash dishes, sweep and mop the floors, dust the halls, mend upholstery, and engage in a variety of other projects. Mindful Activity Apprentices participate on the Temple Care Crew, which has the responsibility of tending to the ceremonial spaces in the temple—caring for the altars and statues as well as the meditation hall, the ceremony hall, and the founder's hall.
In essence, the role of the Mindful Activity Apprentice is to polish the temple, abiding by the Zen teaching menmitsu no kafu—taking very good care of things. The daily work practice of the Temple Care Crew emphasizes attention to detail, both internally and externally.
Formal Zen meditation and training is the foundation of community life at City Center and is an integral part of the Mindful Activity Apprenticeship. Apprentices follow the daily temple schedule, which includes sitting meditation, services, and temple cleaning (soji). The Mindful Activity Apprenticeship requires a commitment to the following practice activities:
Early morning zazen, service, and temple cleaning six days per week
31.25 hours of work-practice per week (M – F, 9 am – 12:30 pm and 1:30 pm – 4:15 pm)
Participation in practice periods and practice period classes
Regular private meetings with a resident practice leader
Monthly one-day sittings
Scheduled sesshins, depending on work and practice assignments
Saturday morning and Wednesday evening Dharma talks
Various monthly and yearly ceremonies and events
Additional Information about the Program
Temple work and self-sufficiency are an integral part of Zen training. Moving away from the alms-based tradition, Zen monks were required to roll up their sleeves to support themselves and the temple they lived in. Continuing in this tradition, our Zen training program emphasizes work as practice. Staying aware of somatic experience, we seek to interact gently and harmoniously with one another while caring for the temple. Through caring for the temple, we simultaneously learn to care for ourselves. Apprentices are encouraged to explore their relationship with every activity through the traditional Buddhist practices of generosity, patience, diligence, enthusiasm and awareness.
The curriculum of the apprenticeship includes daily study of Zen texts, and a rotating class offered weekly. Work practice at San Francisco Zen Center can be best embodied by the famous koan from Layman Pang:
My daily activities are not unusual,
I'm just naturally in harmony with them.
Grasping nothing, discarding nothing.
In every place there's no hindrance, no conflict.
My supernatural power and marvelous activity:
Chop wood and carry water.
To Apply
All applicants must have completed a minimum of two weeks as a guest student at City Center prior to applying for the apprenticeship program. Please visit our Guest Student Program webpage for more information.
Anyone who registers for a six-month apprenticeship can participate in a practice period during the course of their stay without paying a fee. For shorter apprenticeship commitments (e.g., a three- to five-month commitment) apprentices cannot be in residency during a practice period, and would need to schedule their stay for alternate times of the year. Practice periods occur in October/November and February/March.
Please apply at least one month prior to your preferred arrival date. Applications may be submitted less than a month before; however, due to the reviewing process your application may not be accepted in time for you to begin your stay on your preferred date. Applications may be submitted up to a year ahead of your planned visit.
Applications are received year round, however, apprenticeship start dates occur between December 15 and August 31. There is a $30 application fee for non-residents, payable when applying. Applications will be available again toward the end of 2024. See note above regarding the 2024 renovation project.
Health and Safety
City Center is a congregate living facility which is home to individuals in high risk categories. As such, our Covid guidelines may be more restrictive than City and State mandates.
Anyone applying to be a WPA must be fully vaccinated with one of the three FDA-approved vaccines and have received one booster.  (If you are an international student who has not received one of these vaccines, but you would still like to join us for a guest student stay, please contact the director.)
Diversity, Equity, Inclusion, and Accessibility
As part of a diverse community and world, SFZC acknowledges that diversity practice and dharma practice are not separate. SFZC is engaged in practice, conversation, and study to further embody diversity, inclusion, equity, and cultural humility. Students at SFZC aspire to view all beings as Buddha, treating each person we meet equally with care and respect.
City Center welcomes people of every gender, age, race, ethnicity, class/income level, sexual orientation, political belief, language spoken, and physical ability, and will try to accommodate the requests of the sangha.
While working on the Temple Care Crew, I learned that making a bed, sweeping and mopping a floor, cleaning a sink, washing bath mats and all the other tasks I performed throughout the day became meditations in and of themselves. And the mind that attended to each task ... was no different from the mind that attended to the breath in the zendo. —Anonymous

Being part of the temple care crew opened great opportunities for experience, both in aspects of work-related and ceremony-related practice. I've learned a lot and I'm grateful to have had that experience! —Naxuan