Relax and Unplug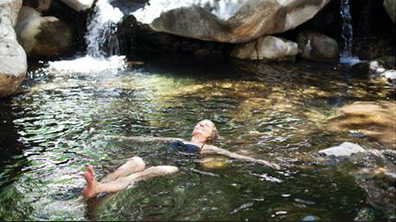 Tassajara offers the perfect environment to slow down and recharge. Surrounded by wilderness, guests are afforded the rare freedom that accompanies isolation from cellular and internet access to experience life at a gentler tempo, and time to deepen relationships with themselves, their friends (new and familiar), and the natural environment.
Hot Springs and Bathhouse
At the top of many lists of things to enjoy at Tassajara is the Japanese-style bathhouse. Traditional design blends with a contemporary aesthetic to create a soothing and contemplative space. There are no private showers in individual accommodations. Communal bathing and sharing the hot springs is part of the Tassajara experience. The bathhouse is clothing-optional with gender-separated facilities including communal showers, a private tub room, steam rooms, sauna, indoor and outdoor plunges, deck space for sunning, and creek access.
Massage
Tassajara offers primarily Swedish and shiatsu modalities, although mixed techniques and other traditions are a welcome addition when available. Typically, one or two therapists are available per day in the delightful massage gazebo. Inquire at the Stone Office upon arrival.
Library
The Library is a little-known gem tucked behind the zendo and upper garden, with a nice selection of natural history, Zen Buddhist texts, history, and other Buddhist themes and topics, alongside more traditional popular fiction and non-fiction books. Guests are invited to visit and peruse; book check-out is only available to students.
Zen Practice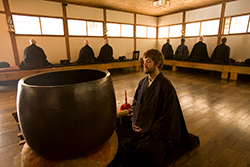 Zen Meditation and Sitting Zazen
The best way to experience Zen practice at Tassajara is to participate in the daily schedule with the residents. Guests are invited to join the morning and evening zazen schedule, or consider a Guest Practice or Summer Work Practice stay.
Daily Zazen Instruction and Beginner Orientation 
Led by a resident student, this is an introduction to the ins and outs of zendo etiquette. It is offered each afternoon and is an opportunity to ask questions about how to interact with the zendo.
Dharma Talks and Other Dharma Events
Dharma Talks are offered by senior Zen practitioners. These gatherings allow everyone to hear how the compassionate teachings of the Buddha can help alleviate suffering wherever it is encountered. Talks are offered regularly by resident and visiting teachers and retreat leaders; event times and locations posted outside the office and dining room.
Stone Office Talks
These informal talks are the perfect opportunity to discuss with a senior Tassajara practitioner any aspect of Zen Buddhism or monastic life that may be of interest. Talks are usually offered on Monday, Wednesday, and Saturday evenings from 8:00-9:00pm.
Recharge and Engage
Retreats
Tassajara retreats explore Zen practice and a wide variety of topics within one of five themes: Engaging Earth, Spiritual Practice, Mindful Living, Creative Expression, and Body and Mind. They begin in the late afternoon on the first day and end before noon on the last day.  Retreat schedules leave plenty of free time to explore other ways of being at Tassajara.
The Retreat Hall is available at times for personal use for yoga and other personal practices. Check with the Stone Office daily for available times.
Pool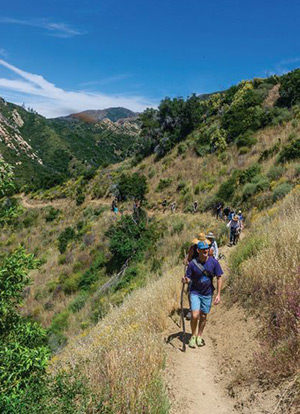 Our not-quite Olympic-and-yet-boundless pool uses minimal chlorine and a heat exchanger to distribute the warmth of the hot springs. It has a changing room, a restroom, and a cold shower. No lifeguard is on duty. While children are welcomed at all times at the pool, the suggested children's swimming time is from 1-3pm. At all other times, lap swimming takes precedence. Please respect resident use times as well.
Hiking
Hiking trails of various difficulty are abundant around Tassajara, which is located in the rugged Los Padres National Forest. Overlook Trail, Horse Pasture Loop, Church Creek Trail/Wind Caves/Indian Caves,Tony Trail, the Narrows, and the Waterfall are common destinations and trails. Also, the Suzuki Roshi Memorial is a ten-minute walk up a nearby trail to the ashes site of the founder. Maps and information about the trails (and TecNu for poison oak) are available in Stone Office.
Bocce Ball
There is a Bocce Ball court in front of the Pine Rooms and instructions are available in the office.
Board Games and History Albums
There is a wide variety of board games available for guests' enjoyment, as well as articles and photos chronicling Tassajara's history. These can be found on the porch behind Stone Office.