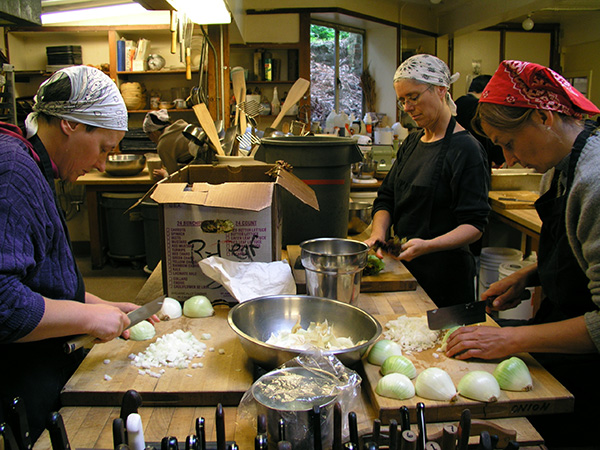 The Green Gulch Kitchen Apprenticeship Program is an opportunity to gain hands-on experience in vegetarian cooking while working in a Zen kitchen that integrates Buddhist practice into every aspect of the work.
Please read the program information on this webpage as well as the application information on the Green Gulch Kitchen Apprenticeship Application Process page, where a link to the application is available.
Green Gulch Cooking
Green Dragon Temple, Green Gulch Farm Zen Center, was established in 1972 by the San Francisco Zen Center, a nonprofit religious organization dedicated to the practice and study of Zen Buddhism in the Soto Zen lineage as conveyed by its founding teacher, Shunryu Suzuki Roshi. It is a residential Zen training temple dedicated to the practices of farming, hosting guests, and offering the Dharma to the wider world.
Located in a beautiful coastal valley just a short drive north from the Golden Gate Bridge, Green Gulch Farm provides a serene environment for personal retreats, meetings, conferences, seminars and workshops. For more than 40 years the Green Gulch kitchen has provided nourishing delicious vegetarian meals for guests, conferences and the residential community.
Green Gulch's cooking and food handling practices have been strongly influenced and inspired by the founder of Zen Buddhism in Japan, Eihei Dogen Zenji, who so revered the teaching he received from 13th century monastery cooks that he wrote a set of instructions for running the kitchen known as the Tenzokyokun.
Former San Francisco Zen Center residents Edward Espe Brown (author of The Tassajara Bread Book), Annie Somerville (executive chef of Greens Restaurant in San Francisco), and Deborah Madison (author of Vegetarian Cooking for Everyone) developed fresh styles of vegetarian cuisine informed by the experience of organic gardeners and farmers at Green Gulch like Wendy Johnson (author of Gardening at the Dragon's Gate). They all emphasized mindful preparation of food and a sincere and joyful approach that continues to inspire Green Gulch cooking. The Green Gulch kitchen appreciates the integrity of the ingredients produced on the farm as well as organic farms in the neighborhood. Green Gulch Kitchen apprentices learn to work with the seasonal offerings of the farm and develop their craft by taking part in all aspects of the work necessary to produce breakfast, lunch and dinner meals. The Green Gulch bakery, led by baker Mick Sopko, bakes fresh bread five days a week for the residential and wider communities.
Zen Kitchen Practice and Zen Training
Work has always had a special place in Zen Buddhism. Suzuki Roshi, the founder of San Francisco Zen Center, continued Zen's "chop wood, carry water" tradition by teaching that work was as important to practice as meditation. Immersion in a Buddhist kitchen involves wholehearted engagement in the tasks at hand, as well as attention to detail and a commitment to maintaining a harmonious workplace. Apprentices have the opportunity to learn how to apply Buddhist principles in the day-to-day practice of preparing and offering food to guests and residents every day.
Green Gulch's approach is to nourish all beings by infusing wholeheartedness and mindfulness into the processes of cooking and baking, and to take care of the community by cultivating harmony and sincerity in the kitchen itself. We rely on apprentices to fully engage with the work-practice schedule and the Zen kitchen practices used here at Green Gulch.
Formal Zen meditation and training is the foundation of community life at Green Gulch and is an integral part of the apprenticeship program. Kitchen Apprentices are actively engaged in Zen Buddhism by following the daily meditation schedule, which includes sitting meditation, walking meditation, services, and temple cleaning (soji). All residents, including apprentices, follow the daily schedule, meet regularly with teachers, and attend temple events, including classes on Buddhism, Dharma lectures, special ceremonies, and monthly one-day meditation retreats (by either sitting in the zendo or working to support the sitting). In addition, kitchen apprentices study Dogen Zenji's Tenzokyokun ("Instructions to the Cook") and meet regularly with practice leaders who are available to help clarify connections between working in the Green Gulch kitchen and "cooking your life."
The Green Gulch Kitchen Apprenticeship is one of the entry-level Work Practice Apprenticeship (WPA) programs available within the two-year apprenticeship program. Upon successful completion of the four-month apprenticeship, a student becomes eligible to receive a scholarship for a practice period at either Green Gulch Farm or City Center.
In January, Green Dragon Temple closes to guests and guest students for the purpose of fully supporting residents and non-residents enrolled in a three-week intensive period of meditation practice and dharma study. During the January Intensive, all Work Practice Apprentices enrolled in the fall/winter program will work with the temple kitchen crew, training in the Zen practice of preparing, cooking and providing meals for the community. The Green Dragon temple kitchen emphasizes organic ingredients and locally grown produce and features seasonal produce organically grown at Green Gulch Farm.
Applicant Requirements
The Green Gulch Kitchen Apprentice program attracts a diverse and dynamic group of people with varied skills and interests, and of varying ages and backgrounds. Apprentices should have:
A desire to learn Zen practice within the context of living and working in a thriving Zen Buddhist community
An interest in learning about and preparing delicious and nutritious vegetarian food, and for creating flavorful and healthful meals using available ingredients
An openness to new experience, and a willingness to learn
A practice of careful attention to detail
Willingness to share communal living responsibilities, and to support others in doing the same
Application Process
Applications are received year round.* For an application and a detailed description of the application process, please go to Green Gulch Kitchen Apprenticeship Application Process.
Before applying, please review Green Gulch Farm's current Health and Safety Requirements.
*Green Gulch Farm work practice apprenticeships (WPA) are a unique opportunity to explore residential Buddhist practice. The schedule and work can be strenuous and even challenging at times. It is not recommended for those currently experiencing acute physical or emotional health issues.