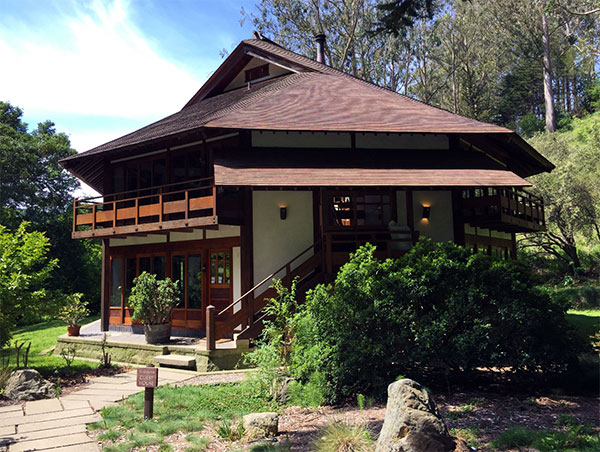 Located in a beautiful coastal valley just a short drive north of the Golden Gate Bridge, the Green Gulch Farm Conference and Retreat Center provides a serene environment for personal retreats, meetings, conferences, seminars and workshops. The intent of the Guest Program is to both provide attentive care guests of the temple and to take care of the private facilities in which they stay as well as the shared facilities in which they convene.
The Guest Program Apprenticeship is one of several entry-level Work Practice Apprenticeship (WPA) programs available within the two-year apprenticeship program. Upon successful completion of the apprenticeship, a student becomes eligible to receive a scholarship for a practice period at either Green Gulch Farm or City Center.
Please read the program information on this page and the application information on the Guest Program Apprenticeship Application Process page, where a link to the application is available.
Facilities
Overnight facilities include the Lindisfarne Guest House, a distinctive octagonal building constructed in a traditional Japanese style and heated with a central wood-burning stove and passive solar system; the Wheelwright Center, with rooms suitable for families and those in need of special accommodation; and a single guest room with a separate bathroom in Still Water Hall.
Conference facilities include the new retreat hall, Still Water Hall, particularly suited for yoga events; the upstairs room of the Wheelwright Center, a meeting room with large windows surrounded by redwood trees; and the Yurt, a round multipurpose facility. Stillwater Hall has built-in floor heating, useful for yoga, and the Wheelwright Center and Yurt are both heated by wood-burning stoves.
In addition to welcoming guests to these facilities, the Guest Program supports the temple kitchen to offer vegetarian meals to temple guests and residents.
Elements of the Guest Program Apprenticeship
Formal Zen meditation and training is the foundation of community life at Green Gulch and is an integral part of the Guest Program Apprenticeship. Guest Program Apprentices are actively engaged in Zen Buddhism by following the daily temple schedule, which includes sitting meditation, walking meditation, services, and temple cleaning (soji). All residents, including apprentices, follow the daily schedule, meet regularly with teachers, and attend temple events, including classes on Buddhism, Dharma lectures, special ceremonies, and monthly one-day meditation retreats (by either sitting in the zendo or working to support the sitting).
During their daily work practice, Guest Program apprentices will welcome, accommodate and respond to the needs of the many guests who visit Green Dragon Temple for individual and group retreats, workshops and conferences. The daily work practice of the Guest Program crew emphasizes attention to the details of guest accommodation, guest house care, and conference preparation, through activities such as making beds, cleaning rooms, preparing meeting rooms and working in the front office. Scheduled study time and personal time are also part of the apprentices' weekly schedule.
In January, Green Dragon Temple closes to guests and guest students for the purpose of fully supporting residents and non-residents enrolled in a three-week intensive period of meditation practice and dharma study. During the January Intensive, all Work Practice Apprentices enrolled in the fall/winter program will work with the temple kitchen crew, training in the Zen practice of preparing, cooking and providing meals for the community. The Green Dragon temple kitchen emphasizes organic ingredients and locally grown produce and features seasonal produce organically grown at Green Gulch Farm.
Study and the Spirit of Practice during the Apprenticeship
Zen training, with its emphasis on the awareness of body, feeling and thought is the basis of our effort to interact gently and harmoniously with one another and in our role as hosts in the temple. Apprentices are encouraged to explore the dynamic relationships of guest and host through the traditional Buddhist practices of generosity, patience, diligence, enthusiasm and awareness.
The curriculum of the apprenticeship includes both traditional and contemporary instruction in how to host guests in a temple environment. This may include individual study, yoga and other body practices, and/or traditional Japanese tea ceremony. As part of the study of hosting guests and making temple food offerings, apprentices will also participate in a field trip to Greens Restaurant in San Francisco.
Application Process
Applications are received year round.* For an application and a detailed description of the application process, please go to Guest Program Apprenticeship Application Process.
Before applying, please review Green Gulch Farm's current Health and Safety Requirements.
*Green Gulch Farm work practice apprenticeships (WPA) are a unique opportunity to explore residential Buddhist practice. The schedule and work can be strenuous and even challenging at times. For this reason they are not recommended for those who are currently experiencing acute physical or emotional health issues.