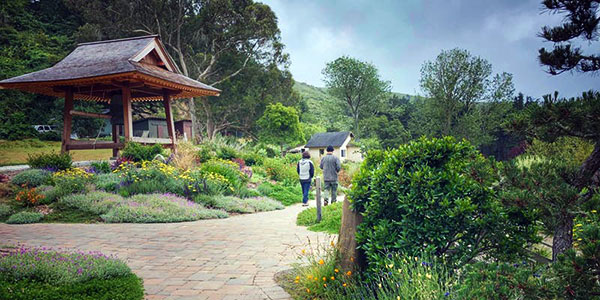 Green Gulch Farm Zen Center, also known as Green Dragon Temple (Soryu-ji), is located in Marin County, just north of San Francisco, in a valley that opens out onto the Pacific Ocean. In addition to a year-round schedule of Zen meditation, study, and practice, it includes a thriving organic farm and garden, a traditional Japanese guest house and tea house, and a conference and retreat center.
History and Mission
Green Gulch Farm is located on 115 acres seventeen miles north of San Francisco. It was purchased in the spring of 1972 from rancher George Wheelwright, with an agreement that it would always remain open to the public and engage in agricultural awareness. The land is an inholding of the Golden Gate National Recreation Area and has much wildlife within its borders. 
Green Gulch has become recognized as a place where organic farmers can come to learn the tools of their trade. One of the original architects of the gardens at Green Gulch was the renowned late horticulturist Alan Chadwick, who introduced the biodynamic farming techniques; Chadwick's grave is marked by a stupa on site. 
Green Gulch operates a 7 to 8-acre organic vegetable farm and a 1 to 1.5-acre fruit, herb and flower garden. The vegetable farm sustains the community living at Green Gulch and also sells its produce at various local farmers markets, whole foods stores, and to Greens Restaurant in San Francisco.
Partnering with the National Park Service and other local groups, residents and staff at Green Gulch work to restore nearby Muir Beach and the surrounding wetlands to their original habitat. 
Apprenticeships in the farm and garden, kitchen, and hospitality provide hands-on experience and the opportunity to integrate Buddhist practice in daily activities.
Green Gulch is home to several fields of organic vegetables and an award-winning flower garden, both of which include preservation of heirloom fruits, vegetables and flowers.
Watershed work parties and environmental education
Programs for children and coming-of-age 
Information about volunteer opportunities and orientation days
Books, gifts, information, and assistance for visitors and guests