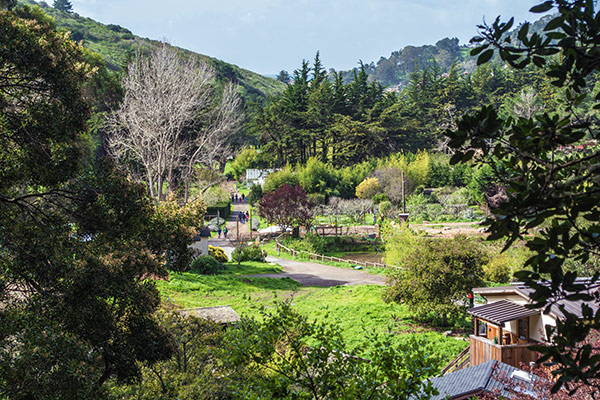 Situated on the coast of Marin, on an inholding of the Golden Gate National Recreation Area, Green Gulch Farm includes seven acres of certified organic mixed vegetable fields, fruit trees, and flower gardens, all of which are open to visitors year-round. Tended by Zen students for 40 years, the deep, fertile clay loam soil, combined with mild summers and coastal fog, create the ideal conditions for many cool weather crops and ornamentals.
Farm Needs
Those interested in volunteering on the farm or with objects to donate, please contact the farm manager at farm@sfzc.org.
Garden Needs
The garden currently is not in need of volunteers or supplies. Those interested in future possibilities or donations, please contact the Garden Manager, Yuki Kobiyama at garden@sfzc.org.
Each spring since the Farm and Garden Apprenticeship Program's founding in 1994, new farm and garden apprentices join our community and experience a unique opportunity to study themselves and the natural world through meditation practice and working directly with the land in the Green Gulch watershed.
From May through October, Green Gulch Farm organic produce is available at the Mill Valley and SF Ferry Plaza farmers' markets. Enjoy the Green Gulch produce at these locations throughout the season.
The garden at Green Gulch offers the opportunity to bring meditation and work practice into relationship with the lively world of plants.