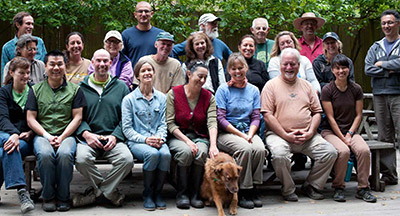 A week in mid-September each year is devoted to caring for the watershed. Volunteers stay in the guest house, and meditate, eat, and socialize with the community and each other. This is in exchange for helping us with many projects that wouldn't get done otherwise.
With Caroline Cavanagh and Sukey Parmelee, Land Advocates at Green Gulch Farm

September 13 – 18, 2020
Sunday 6 pm (dinner) – Friday noon (lunch)

Full week commitment preferred
(no charge)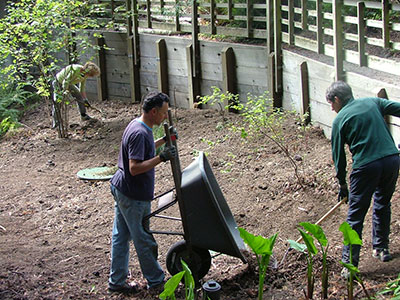 The Watershed Work Week is a wonderful time to be at Green Gulch and recharge through nature and meditation. In exchange for labor and help in caring for the 115-acre valley, with trails, grounds and creek restoration, participants receive accommodation in our guest house and all meals at no charge, and are warmly invited to join formal practice in the meditation hall as well.

Particularly needed are people who enjoy active outdoor work, but anyone who is willing to get dirty and work hard is welcome, as long as there is space. Commitments for the full week are preferred and will be given priority. People with special skills will be given priority as well. The work day is from 8:30 am to 4 pm with an hour for lunch.

To Register: To facilitate planning, complete and submit this questionnaire [Word / PDF]. The projects for the week have not yet been set, and may depend on people's skills, so please submit your questionnaire by mid-August. Confirmations may not be available until the latter part of August; efforts will be made to best to accommodate needs of participants.

Please call the Green Gulch Office at 415.383.3134 or email for more information.