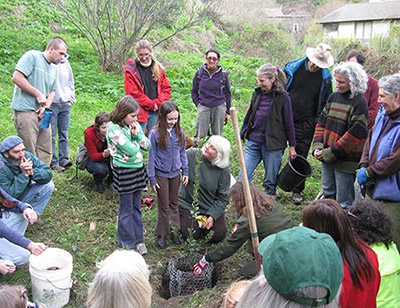 Please join in this decades-long tradition called Arbor Day at Green Gulch! This year the community will plant one tree together and then fan out across the land to care for the many trees and shrubs that have been planted over the past forty plus years. The care given may involve weeding, protecting, mulching, trimming, or simply communing with the trees and shrubs.
Together the community will continue caretaking this diverse and precious watershed, working in a contemplative atmosphere among the wild elements. This event will be held regardless of weather, excepting torrential rains. Check the weather and dress accordingly. Bring work clothes, gloves, water bottles, whatever you need to be comfortable. A closing gathering will include hot tea, treats, and warm company to dedicate the merit of our time together. You're invited to stay for evening zazen at 5:15 pm to complete the day.
You are warmly invited to join the community to express gratitude for the blessings of the earth.
Follow the signs for directions to our opening gathering place.
| | |
| --- | --- |
|   | Schedule for Arbor Day Sunday: |
| 10:00am   | Sunday Program and Dharma Talk |
| 12:15pm | Complimentary lunch for participants |
| 1:30 | Arbor Day event |
|   | Opening words and dedication |
|   | Activities: planting, weeding, sheet mulching, seed balls, etc. |
| 4:00 | Gather in dining room for tea and treats and closing |
| 5:00 | Zazen |