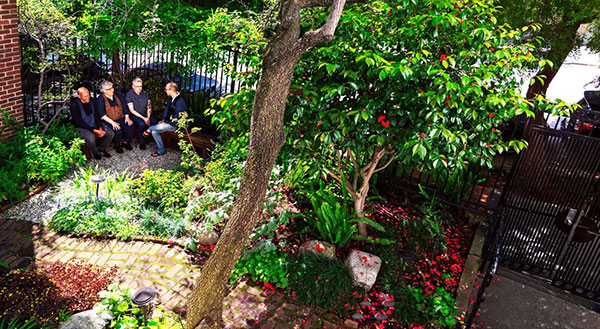 Welcome
City Center, also known as Beginner's Mind Temple (Hosshin-ji), is one of three practice communities that comprise the San Francisco Zen Center, which also includes Green Gulch Farm and Tassajara Zen Mountain Center. It was established in 1969 by Shunryu Suzuki Roshi as a training center in the Soto Zen tradition open to the general public.
Offerings include daily meditation and service, semi-weekly dharma talks, classes, workshops, residential student programs, and the opportunity to discuss one's spiritual practice with an experienced Zen practice leader. Scroll down for general information.
For those new to San Francisco Zen Center, please visit on Saturday morning at 8:40 am for an introduction to City Center and meditation practice.
Location
The incredibly beautiful building that houses San Francisco Zen Center's City Center temple is located at 300 Page Street (at Laguna), near the end of the Central Freeway in the Hayes Valley/Lower Haight neighborhood, which borders the Civic Center area. Limited on-street parking is available in the neighborhood; a public parking lot is also available on Franklin Street near Oak. Carpooling is encouraged (Rideshare Board).
MUNI buses: Lines 6 and 7 run often and stop at either Haight and Laguna (one block away) or Haight and Buchanan (two blocks away). F line trolleys running down Market Street are a 5-10 minute walk from City Center. For the 21 Hayes, get off at Laguna and Hayes,for the 22 Fillmore, get off at Oak and Fillmore. Many of the rail lines bring riders within a few blocks of City Center; get off at Van Ness Station or at Duboce and Church St. and walk a few blocks to 300 Page. For additional directions from outside of the city, view larger map.
---
Front Office
415.863.3136
ccoffice@sfzc.org
Monday-Friday 9:30 am – 5 pm
Saturday 11 am – noon
Registration for classes, workshops, retreats, events: Call the toll-free number 888.743.9362 or the local number 415.475.9362.
---
The bookstore offers a wide range of Buddhist books, zafus, incense, and accessories. Most items can be ordered by mail. It has its own entrance at 300 Page Street, just to the left of the main doors to Zen Center, and is accessible by ramp. This is the contactless pick-up location.
The bookstore is closed to the public due to the ongoing health pandemic. However, orders and requests can be submitted via email, by phone, or through the Online Bookstore. There is someone in the bookstore Monday – Friday, 9:30 am – 12:30 pm and 1:30 – 4 pm PT. The bookstore is closed on Saturday and Sunday. Please call if you have questions or would like to place an order, or visit the Online Bookstore site to view and order books, incense, and other merchandise. Completed transactions can be mailed or retrieved at the entrance to the bookstore.
Your support at this time is appreciated.
415.354.0397
bookstore@sfzc.org
Hours:
Monday – Friday, 9:30 am – 12:30 pm and 1:30 – 4:00 pm PT (available by phone and email); closed on Saturday and Sunday
---
Fees for Events
There are three rates for most City Center events: a "standard" rate, a "members" rate, and a "reduced" rate for people with limited income. Attendees may choose the rate that fits their situation. Those who are unable to attend a program due to financial constraints may inquire about scholarship and work exchange assistance.
Scholarship Fund
The Zen Center Scholarship Fund was established to help those people unable to meet the costs of taking part in the programs at Zen Center, provided funds are currently available. City Center welcomes all scholarship applications, and mention of one's personal circumstances will not be required. Please inquire at the front office.
Contributions to the Scholarship Fund help make practice available to students with financial constraints. Donations can be sent to the Zen Center Scholarship Fund, 300 Page Street, San Francisco, CA 94102, and are tax-deductible.
---
City Center offers a variety of outreach and volunteer programs and activities. 
---
Library
The library is currently run on a volunteer basis, and has variable hours. Please contact the main office at 415.863.3136 to check availability.
---
We welcome outside groups to hold meetings and classes in the peaceful setting of a classic Victorian home, located next door to Zen Center at 308 Page Street. The Parlor Room, 40' x 13' with high ceilings, wood floors, and area rugs, accommodates up to 35 people. The less formal Sun Room, 21' x 17', is just right for more intimate gatherings and workshops. Vegetarian meals can be arranged. For more information, please click here.
City Center offers charming guest rooms for short-term stays. Rates include vegetarian meals with the community. This is a convenient and economical way to stay in the city while experiencing life in a Zen Buddhist temple and enjoying the serene elegance of a building designed by Julia Morgan. Guests are also welcome (but not required) to join the daily meditation schedule and other activities.
The first floor of City Center is accessible by ramp. The Buddha Hall, bookstore, office, dining room, class and meeting space, a guestroom with private bath, and a restroom are on the first floor. The zendo is accessible by ramp at the Laguna Street entrance. Sutras are available in large print. Hearing assistance is available for lectures.
---
City Center offers a variety of ways of being a resident, from a one-week stay as a guest student to long-term residency. Practice period participants may apply to be residents during their practice period if space is available in the building.