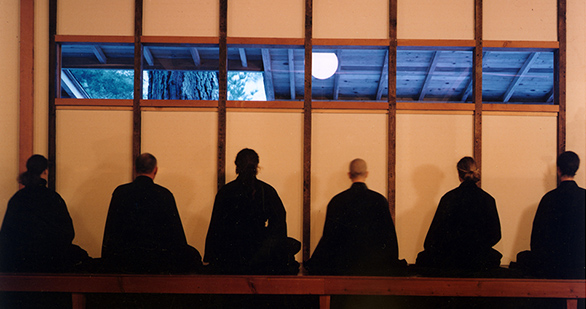 Green Gulch Farm Zen Center offers a full schedule of daily zazen and service, a Sunday morning program, classes, day-long sittings and sesshins, and residential practice periods in the traditional style. Teachers are available for private interviews. Study in the Way of Tea is also offered.
Details about meditation instruction, Sunday mornings, and other introductory programs
Zazen is the very core of the practice. In the Soto Zen tradition, zazen, formal service, and ceremonies are the bodily enactment of the vow to awaken for the benefit of all beings. The daily schedule and all other activities are designed to support the community's zazen practice.
The Sunday morning program is partially open at present, with a period of zazen before the Dharma talk, attendance at the Dharma talk, and tea following the talk. See the Calendar for upcoming talks.
Sesshin means to collect the heart/mind—spending up to seven days meditating, eating, and working in silence, devoting every aspect of the day to the realization of the Buddha Way. Sesshin meals are generally served and taken in the traditional oryoki style.
Practice periods are led by one of the resident teachers and usually focus on a particular teaching or aspect of practice. A practice period is the traditional Buddhist way to deepen and intensify one's practice.
Buddhism has a 2,500-year history and there have been many schools of Buddhist thought, and many styles of practice. Study is traditional in Zen monasteries as zazen and intellectual understanding inform and deepen each other.
Green Gulch offers a quiet atmosphere and well-maintained, comfortable, and versatile meeting facilities that are ideal for a variety of day-long and weekend workshops and retreats.  These events combine lecture, group discussion, and meditation practices. Some retreats are especially designed for families.  
Those who are new to practice, as well as those who have an ongoing meditation practice, are encouraged to speak regularly with one or more practice leaders. First-time practice discussions are arranged through the front office at 415.383.3134.
The Way of Tea is a practice and art that developed in the 15th and 16th centuries in close conjunction with Zen. The Green Gulch tea house is built in the traditional Japanese style within the enclosed space of a tea garden, offering an intimate and protective setting for classes and tea gatherings.