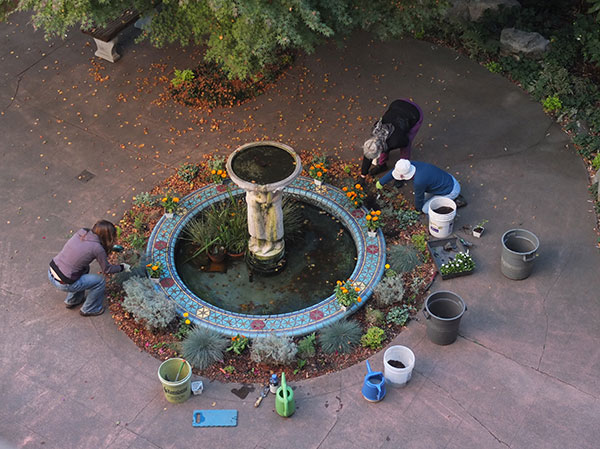 San Francisco Zen Center's Work Practice Apprenticeship (WPA) Program is a two-year, entry-level Zen training program. As a Work Practice Apprentice, each student will be working and practicing full-time at City Center, wholeheartedly engaging with all aspects of the daily practice life in the temple, as well as the many other aspects of living, working, and practicing together in sangha. The goals of the program are three-fold:
Support Zen students to establish a solid foundation in Zen meditation, work-practice, and the spirit of the Buddha's teachings as passed down to us by Suzuki Roshi and his Dharma heirs.
 
Offer a low-cost way for sincere students to make a commitment to full-time, residential Zen practice.
 
Reward those who successfully complete the initial three- to six-month period with the opportunity to continue and deepen their practice at Zen Center.
The initial three-month period of the WPA Program begins upon acceptance through application to the director and practice committee. All applicants must have completed a minimum of two consecutive weeks as a guest student at City Center prior to applying to the apprenticeship program. Please visit our Guest Student Program webpage for more information.
The work-practice program requires a commitment to the following practice activities:
Early morning zazen, service, and temple cleaning six days per week
32.5 hours of work-practice per week (M-F, 9 am to 4:30 pm)
Participation in practice periods and practice period classes
Regular private meetings with a resident practice leader
Monthly one-day sittings
Scheduled sesshins, depending on work and practice assignments
Saturday morning and Wednesday evening Dharma talks
Various monthly and yearly ceremonies and events
Health and Safety
City Center is a congregate living facility which includes high risk individuals. As such, the process of post-pandemic reopening and the student guidelines outside of San Francisco Zen Center may be more restrictive than City and State mandates.
Anyone applying to be a WPA must be fully vaccinated with one of the three FDA-approved vaccines: Pfizer, Moderna, or Johnson & Johnson. One is considered fully vaccinated two weeks past the final (or only) vaccination shot. (If you are an international student who has not received one of these vaccines, but you would still like to join us for a guest student stay, please contact the director.)
Please contact the director to learn about the most current guidelines if you think this will impact your ability to participate in community life.
Diversity, Equity, Inclusion, and Accessibility
As part of a diverse community and world, SFZC acknowledges that diversity practice and dharma practice are not separate. SFZC is engaged in practice, conversation, and study to further embody diversity, inclusion, equity, and cultural humility. Students at SFZC aspire to view all beings as Buddha, treating each person we meet equally with care and respect.
City Center welcomes people of every gender, age, race, ethnicity, class/income level, sexual orientation, political belief, language spoken, and physical ability, and will try to accommodate the requests of the sangha.
Additional Information about the Program
Buddhist Precepts: All members of the WPA Program are expected to practice in relation to the 16 Bodhisattva precepts. In particular, students are asked to refrain from initiating new sexual relationships during their first six months of residency and to refrain from all drug and alcohol use at City Center. Please obtain a copy of the Zen Center Ethical Principles and discuss any questions or concerns regarding these guidelines with the City Center director prior to submitting an application.
Expenses and Stipends: There is a one-time $70 application fee for the City Center WPA Program. After this initial fee, all room, meals, and tuition are provided while in residence during the apprenticeship program. During participation in the program, each apprentice will receive an allowance starting at $75 per month for essential purchases. After three months, depending on timing, the apprentice may participate in a practice period or apply for another three-month apprenticeship.
Practice Period Credits: After successfully completing a three-month period in the apprenticeship program, a Work Practice Apprentice is eligible to receive a credit for one practice period at Tassajara, Green Gulch Farm, or City Center. This allows students to continue in residential practice or return to SF Zen Center at a later date, acknowledging that a variety of life situations may not allow continuous residency. To attend a Tassajara practice period, one must have first completed a practice period at either City Center or Green Gulch Farm, including a sesshin. Apprentices must apply for and be accepted for each practice period. Acceptance to the practice period is subject to space availability, as well as review by the practice period applications committee at the respective practice center.
Health Insurance: SF Zen Center does not provide health insurance for work practice apprentices. City Center apprentices are not considered to be on staff, and thus time as a WPA participant does not count toward the accrual of the staff time necessary to qualify for SF Zen Center health insurance.
Continuing on in a Staff Position: Upon successful completion of the two-year WPA Program, students are eligible to apply for a City Center staff position. A description of staff policy, benefits, and stipend levels is available from the City Center director.
To Apply
Ideally applicants will have an established Zen practice; however, this is not required.
There is a $30 application fee for non-residents, payable when applying. See here for the online application.
In addition to filling out the application form, please send a letter of recommendation to the director in order to complete your application. This letter can be from a spiritual teacher, academic teacher, mentor, or employer. Please provide contact information so that we may reach them if necessary, including their name, email address, and phone number.
Please apply at least one month prior to your preferred arrival date. Applications may be submitted less than a month before; however, due to the reviewing process your application may not be accepted in time for you to begin your stay on your preferred date. Applications may be submitted up to a year ahead of your planned visit.
For more information, contact the City Center Director at ccdirector@sfzc.org.