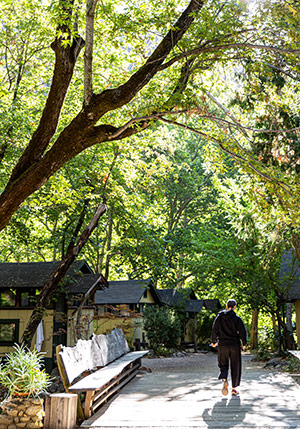 This program offers the opportunity to meditate and work alongside Tassajara's residents and monks. Participants attend early morning meditation, eat breakfast and lunch with the residents, and work 3½ hours daily. Afternoons and evenings are free, including dinner in the guest dining room. Participants are expected to work the morning of their departure. 
All participants in the Guest Practice Program must follow the daily schedule:
05:50 am Zazen (meditation)
06:50 am Morning service (chanting and bowing)
07:15 am Soji (temple cleaning)
07:30 am Breakfast with students
08:30 am Work
12:00  pm Lunch with residents
The Guest Practice rate is $75 per person per day for shared accommodations. A minimum stay of three (3) days is required.
Please note that the Guest Practice schedule is not compatible with participating in a retreat or with caring for a child. Registration for the Guest Practice program is dependent on availability of Guest Practice housing. For information, please call Tassajara Reservations at (888) 743-9362.