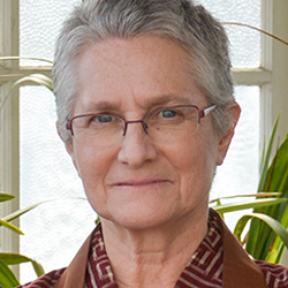 Kyoshin Wendy Lewis has been practicing at San Francisco Zen Center since 1987, including living for six years at Tassajara. She was ordained by Sojun Mel Weitsman in 1997 and completed Dharma Transmission with Eijun Linda Cutts in December 2012. She served twice as shuso, once as a lay practitioner and again as a priest. Through her interest in extended priest training, she participated in a one-year chaplain training program at UCSF Medical Center and completed a Masters of Theology at the University of San Francisco. She has held senior staff and administrative positions at SF Zen Center as well as working as the Web Editor. Over the last several years, she has been Dean of the Zen Center School in the Central Abbess/Abbot's Department and has returned to the Web Editor position.
She managed the Sewing Room, making meditation cushions, zabutons, and oryoki cloths, and learned how to make priest robes. She is a qualified teacher of ordination sewing.
Academic and Training background:
BA Lone Mountain College (now a part of USF); through a program at Lone Mountain, studied for a year at Oxford.
Certificate of Completion UCSF Medical Center one year CPE/chaplaincy training.
MA Theology, University of San Francisco.
Wendy has taught and continues to teach classes at San Francisco Zen Center. She was one of the teachers for the 2013–2014 Contemplative Caregiver Course and one of the teachers for the 2014–2015 EPP–Establishing the Path of Practice program. She has co-led two practice periods at City Center and led the Winter 2020 Intensive at City Center/Beginner's Mind Temple.
Classes:

2014 The Diamond Sutra
2014 The Heart Sutra
2015 Buddhist Ethics and Modern Culture
2015 Introduction to Genjokoan
2016 Mindfulness as Remembrance: on the Four Foundations
2017 Introduction to Alayavijnana - Storehouse Consciousness
2018 Experience and Investigation: Studying the Six Paramitas
2019 Introduction to the Lotus Sutra
2019 Trust In Mind / Hsin Hsin Ming
2020 Led the Winter Intensive: Nature and Experience; class Spiritual Experience and the Natural World