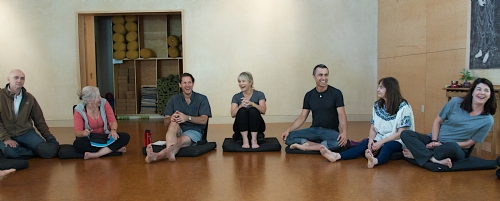 A Sangha Week is a special week-long, publicly available Study Week that allows Dharma teachers and members of affiliated and other sanghas to practice together. They are typically led by a former or sitting Abbot or Abbess, or a visiting venerable teacher. Tassajara invites and welcomes: Dharma teachers with their students who want to spend some time together; groups of sangha members without their teacher; and individual practitioners who wish to come alone or with a friend.
---
Upcoming Sangha Weeks:
Sangha Weeks for Summer 2022 have not yet been scheduled.  We look forward to practicing together soon.
---
Participation in Sangha Week includes zazen (sitting meditation), Soto Zen services (chanting and bowing), taking up mindful work as practice, and studying the Dharma (Buddhist teachings). Participants attend morning meditation, eat breakfast and lunch with the students, and work 3½ hours daily; afternoons and evenings include free time, Dharma offerings, and activities. Dinner is provided in the guest dining room, and the majority of the housing accommodations are Shared Housing with other Sangha Week participants.
The rate for Sangha Week is $75.00 per person, per day (Sunday - Thursday), $85.00 per person per day (Friday - Saturday) for shared guest accommodations. For those traveling with a companion, private rooms may available for two. However, spaces are limited, and private housing may require paying the Standard overnight guest rate; please call Reservations at (888) 743-9362 to register.