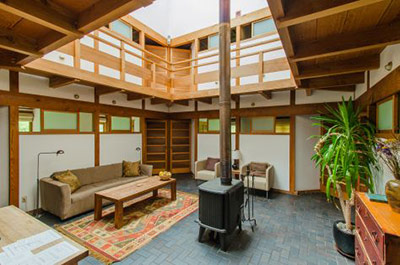 Internet & Devices
WiFi is available throughout most of Green Gulch.  Many people come to Green Gulch to unplug from a busy, connected world. We ask guests to support an environment of quiet contemplation by refraining from talking on phones and devices in public areas. In the guest house, please use headphones for devices that make sound. If there is an emergency for which you need to make a phone call, please go to the Welcome Center to use the landline.
Smoking
There is no smoking anywhere at Green Gulch Farm except for the day parking lot.
Dining
Three vegetarian meals a day are served in the main dining room for overnight guests and residents.  Allergens are listed on the menu board and there are gluten-free and vegan options available.
Breakfast 7:20am      Lunch 12:15pm               Dinner  6:00pm
Drinks, Snacks & Bread
Fresh baked bread and jams, seasonal fruit, and coffee, tea and water are available in the Guest House and the main dining room between meals. Our famous bread is often available for purchase in the bakery Wed-Sun.
Food into the Guest House
Food can be kept in the Guest House fridge and should be labeled with your name and checkout date. There's a sharpie and roll of tape in the Guest House kitchen for labeling.  Green Gulch buildings are very inviting to wild animals; we ask guests to do everything possible to put food away when not eating it and to clean up after.       
Meditation
You are welcome to meditate with the community. Please plan on arriving 10 minutes early to any meditation period and enter the zendo from inside Cloud Hall.  Each period is 35 or 40 minutes.  Please see the posted schedules for exact times.
New to meditation?

  If you haven't meditated before, we highly recommend attending Sunday meditation instruction at 8:15 am in the zendo.  Also see our

Sunday Public Program

:
Meeting with a Teacher
The Welcome Center can contact the teacher you would like to meet with to discuss your practice.
Late Checkout
Please inquire with the Welcome Center to check if a late checkout may be possible.
Critter prevention
Please put the wooden stick in the bottom of the sliding door track at night so raccoons do not enter the Guest House.
Green Gulch Farm Produce & Nursery
A working organic farm, Green Gulch sells produce seasonally at several local farmers markets. Green Gulch also offers plants which may be purchased throughout the year directly from the garden nursery.
Green Gulch Library
You are welcome to read in the Green Gulch Library located beneath the zendo. Guests are asked not to check books out.
Green Gulch Gift Shop
The gift shop is located in the Welcome Center. Books, incense, clothing, meditation cushions and a variety of other items are for sale. Hours: 9:00am-12:00pm & 1:30-4:00pm.  We are closed for lecture between 10:00am-11:00am on Sunday.
Workshops
A variety of workshops are held at Green Gulch throughout the year. Please see the bulletin boards outside the Welcome Center or our calendar of events for information.  
Tea House
Green Gulch is home to a traditional Japanese-style tea house.  It is used to host monthly public tea gatherings and weekly tea classes. Guests can register for tea gatherings on our website or by calling the Welcome Center.  Except for these events the tea house is not open to visitors, however, guests may visit the garden outside the tea house.
Saunas
Green Gulch has two infrared saunas available for guest use located in a small building between the Guest House and the Welcome Center.  In the spirit of inclusivity and welcoming all beings we offer a scheduled time every evening for those who do not identify with the traditional binary gender categories and for those who do not feel safe using this vulnerable space with others.  Please see the posted signs for guidelines and inquire with the Welcome Center if there are further questions.
---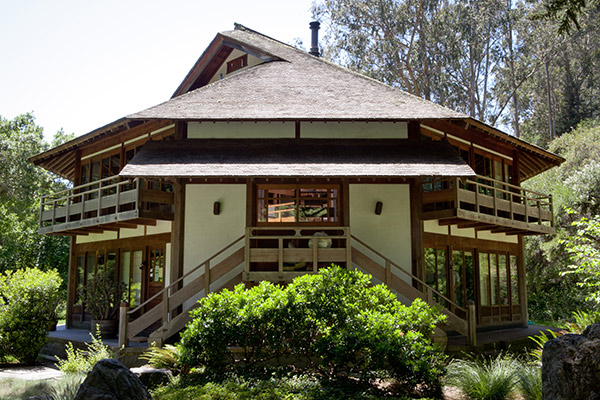 Constructed in a traditional Japanese style, the octagonal Lindisfarne Guest House offers twelve rooms on two floors surrounding a 30-foot skylit atrium. See the binder in the atrium for more information about the building and its construction.