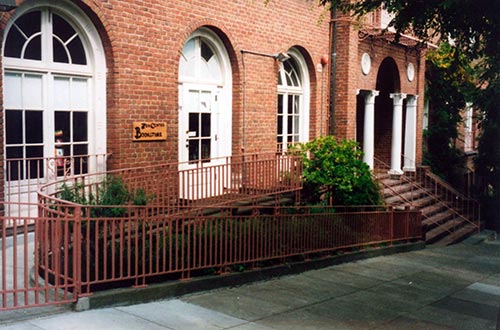 The City Center Bookstore offers a unique collection of books, cards, and merchandise, all intended to support the study and practice of Buddhism in its many forms and traditions. The Bookstore is now open for in-person shopping. Vaccination and booster required. Masking with a K/N95 is required at all times inside the building. Orders and requests can also be submitted via email, by phone, or through our Online Store. Completed purchases can be shipped, or a contactless curbside pickup can be scheduled and items picked up at the bookstore entrance.
Your support is appreciated.
---
Hours
Monday – Friday, 9:30 am – 12:30 pm and 1:30 – 4:00 pm
Saturday, 9:30 am – noon
Closed on Sundays and holidays and during some retreats/sesshins. At these times, the bookstore is not available for pick-ups. Please check the calendar.
The Zen Center Bookstore is located at 300 Page Street, at the corner of Laguna. See directions here.
The bookstore has a separate entrance which is directly accessible via the front access ramp. This is also the location for contactless pick-up.
---
Information and Ordering
415-354-0397
bookstore@sfzc.org
If you are placing orders by phone, please have your payment information available.
---
Merchandise
Books – including classical and historical Buddhist texts, koan commentaries, cookbooks, contemporary authors, and featured San Francisco Zen Center authors
Meditation cushions and benches – zafus, zabutons, seiza benches, and support cushions
Incense – San Francisco Zen Center's custom brand and other selected varieties
Artwork by local artists – including Paula Pietranera and Richard Urban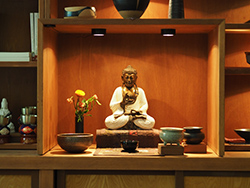 Tassajara and Green Gulch Farm – including tee shirts, sweatshirts, tote bags, and mugs
Samue and Jin Bei clothing
Statuary – buddhas, bodhisattvas, jizos
Mala beads and jewelry
Cards
Gift Cards