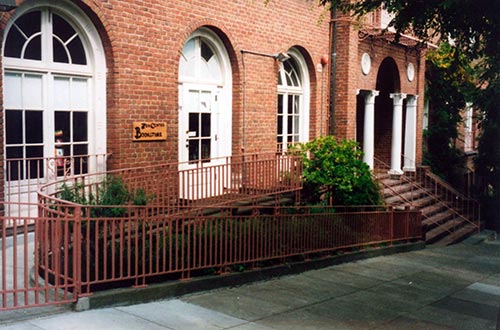 Updated: August 30, 2022
The City Center Bookstore offers a unique collection of books, cards, and merchandise, all intended to support the study and practice of Buddhism in its many forms and traditions.
We are happy to report that the City Center Bookstore is now open for in-person shopping. Vaccination and booster required. Masking with a K/N95 is required at all times inside the building. Orders and requests can also be submitted via email, by phone, or through our Online Store. Completed purchases can be shipped, or a contactless curbside pickup can be scheduled and items picked up at the bookstore entrance.
Your support is appreciated.
---
Hours
Monday – Friday, 9:30 am – 12:30 pm and 1:30 – 4:00 pm PT, Saturday, 9:30 am – noon (in person as well as by phone and email); and closed on Sunday
The Zen Center Bookstore is located at 300 Page Street, at the corner of Laguna. See directions here.
The bookstore has a separate entrance which is directly accessible via the front access ramp. This is also the location for contactless pick-up.
---
Information and Ordering
415-354-0397
bookstore@sfzc.org
If you are placing orders by phone, please have your payment information available.
---
Merchandise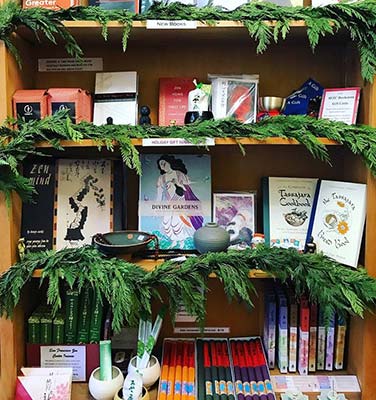 We carry a wide assortment of supplies for home altars, meditation practice, and the study of Zen and Buddhism in its many forms and traditions. We also carry unique gifts and cards, and are happy to custom order items. Please call with any questions or special requests. For international orders please call the bookstore directly to place your order and arrange shipping.
Merchandise we offer includes:
Books – including sutras, koan commentaries, cookbooks, recovery, and featured San Francisco Zen Center authors
Meditation cushions and furniture – zafu, zabuton, benches, bells
Incense – San Francisco Zen Center's custom brand of incense, as well as other Japanese and Chinese styles of scent
Gift Cards – gift certificates of various amounts
Artwork by local artists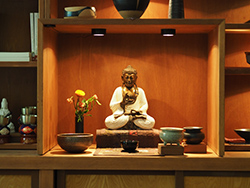 Items from Tassajara and Green Gulch Farm
Samue and Jin Bei clothing
Cards
Statuary – Shakyamuni, Quan Yin, Jizo, Samantabhadra, and Manjushri
Mala beads – from all over the world