Date / Time
December 5, 2021 / 10:00am - 11:00am
Event Type
Family & Children's Events
Description
The Zoom link to participate in this event will be provided at least 24 hours before it begins. Please call 415-354-0360 if you have any questions.
---
Sunday, 10 – 11am PT
Celebrating Winter with Dharma-Inspired Nature Projects
Parents, Caregivers, and Children ages 3 – 10
By encouraging our children to tend to the earth with love and care, we plant the seeds for climate justice!
Acknowledging the wintertime, the winter solstice, and the many ways that people celebrate this time of year, our family sangha will practice with the story of Buddha's enlightenment in December.
After sitting in meditation beneath a tree throughout the night, and upon seeing the light of the morning star, the young man who would become known as the Buddha experienced an insight that would become a foundation of his teaching—what we now understand as the Dharma.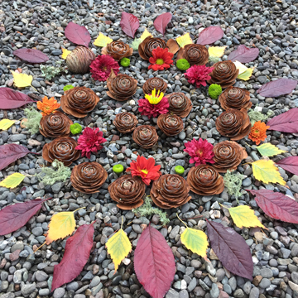 In this way, our family sangha will create simple and beautiful mandalas, delighting in the dharma that emanates from the earth and starlight through the winter months. We will share ways to develop family rituals around reverence for nature, nourishing bodhicitta—the mind that strives toward awakening for the benefit of all beings—including plant-beings and the Bodhisattva Mother Earth.
Materials needed:
A table, cloth, scarf, or other surface for creating a mandala
Items collected from nature — such as leaves, flowers, pinecones, and stones
Journal (please bring to each family program that you attend)
Together, Meikyo and Junsen will help parents and caregivers learn how to integrate dharma practice at home. Content will be adult-focused and kid-friendly, with children ages 3 – 10 invited (but not required) to join. A digital tutorial will be emailed after the program. Journal prompts will be provided during the program.
Description and dates for Engaged Family Practice Program 2021 – 2022
Fee Information
Per session
General $60
Current SFZC Members $54
We offer a number of discounted tickets:
Sliding Scale 1: $36
Sliding Scale 2: $15
Or call 415-354-0360.
Full Program – six sessions
General $360
Current SFZC Members $324
We offer a number of discounted tickets:
Sliding Scale 1: $216
Sliding Scale 2: $90
Or call 415-354-0360.
For additional discount options, please email us at rezoffice@sfzc.org.