Urban Temple Dharma Teacher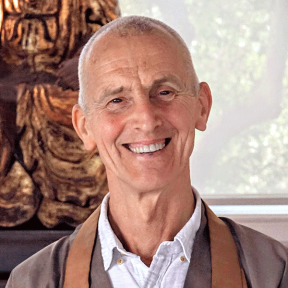 Ryushin Paul Haller served as Abiding Abbot at City Center from 2003 to 2012, and is currently the Urban Temple Dharma Teacher at City Center. He has lived and practiced at San Francisco Zen Center since the 1970s and held many positions at Tassajara and City Center. He received Dharma Transmission from Sojun Mel Weitsman and has been teaching for over 30 years. Originally from Belfast, Northern Ireland, he teaches throughout the US and Europe and has led mindfulness programs to assist with depression and recovery. Paul has also taught in prisons and had a long involvement with the Zen Hospice Project. He has been practicing yoga for over 30 years. Paul teaches at the Black Mountain Zen Centre in Belfast.
Founder and former Director of Outreach at SFZC, Paul is interested in finding ways of expressing our practice in society, both as compassionate service and making it available to as many people as possible.