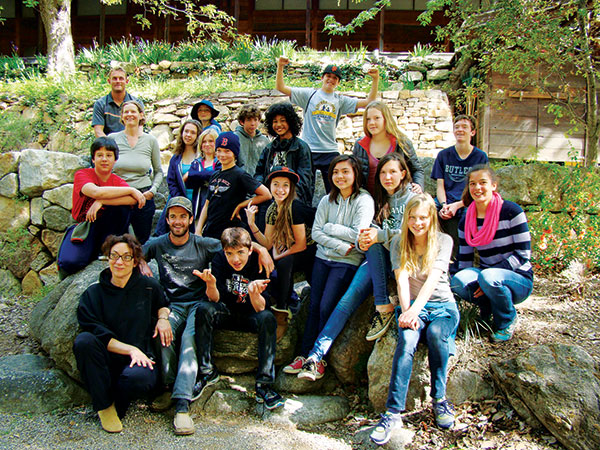 Just as Siddhartha left the innocence and protection of his childhood palace to seek his own path and to discover what he had to bring into the world, so must all young people leave the total dependence of childhood behind and embark on the important and complex journey towards adulthood.
The Green Gulch Zen Center Coming of Age Program aims to offer guidance and support that facilitates youth in their journey towards deepening connections to themselves, their family and community, and the greater world. Coming of Age is a formal celebration of the journey to adulthood. Please join us! Both new and returning students are welcome.
Opening Ceremony
Sunday, September 22, 2019
Green Gulch Farm
Stillwater Hall
9:30 am – noon

We request that both parents attend the Opening Ceremony, if possible, at which time we will ask you to participate in a special ritual to acknowledge this remarkable time in the lives of both you and your child.

After the opening ritual, the parents will have time to meet together, introduce themselves to each other and create an avenue for interested parents to connect. Lunch following the meeting, for COA youth, is included with the program. Additional family members may join them at a suggested $10 per person.
Description
The boys' and girls' groups meet separately once a month for nine months on Sunday mornings from 9:30 am until noon at Green Gulch Farm. The meetings culminate in a Coming of Age Ceremony in the zendo in May, in which participants are honored and witnessed by their friends and family.
The curriculum for the program is based on Norman Fischer's book Taking Our Places. The form and content of the program will be primarily based on Buddhist practice and teachings, yet open to the cultural and religious backgrounds of the participants. Our Sundays will be spent creating a safe and supportive youth sangha led by resident practitioners and teacher/mentors. Over the nine-month program our COA sangha will explore the richness of Green Gulch Farm by spending time in, and learning about, the kitchen, the organic farm and Green Dragon Temple, the meditation hall. As part of each activity, we will examine Buddhist precepts, or guides to living, as a path to discovering individual beliefs and values.
Each group consists of 10 to 12 youths. The mentors bring many years of commitment to Buddhist principles and practice to help prepare these youth for the challenging transitions ahead.
Schedule
All meetings begin at 9:30 am on the deck between the Welcome Center and the Wheelwright Center. Meetings end at the same place at noon. Please pick up your child at the end of the meeting. You are invited to stay for lunch. Lunch for the youth is included in the program tuition; the cost for other family members is a $10 donation.
2019–2020 Schedule(subject to change)
| | |
| --- | --- |
| September 22 | Opening Ceremony |
| October 12 | Boys' overnight |
| October 19 | Girls' overnight |
| November 10 |   |
| December 15 |   |
| January 12 |   |
| February 9 |   |
| March 14 | Boys' overnight |
| March 28 | Girls' overnight |
| April 19 |   |
| May 17 | Completion Ceremony |
Participants meet on Sundays, 9:30 am – 12 pm
Overnights meet Saturday, 5:30 pm – Sunday, 12 pm
The completion ceremony begins at 9:30 am for the youth. Families and their guests should arrive by 11:15 for the ceremony in the zendo. We encourage families and guests to attend the morning lecture, which will be relevant to the ceremony. A reception will follow the ceremony. Families will be encouraged to bring a pot luck and desserts for our celebration.

More details will be given concerning the overnights and the completion ceremony as we get closer to the time of those events.

We are so grateful for your interest in our program and look forward to meeting you and your child.
Contact Information
Should you have questions regarding the program, we would be happy to answer your questions directly. Contact Cynthia Hager, program coordinator, at 415.302.5896 or cynhager@gmail.com.
Tuition
$800; $720 SFZC members, $640 low income.
Note: Scholarships may be available; inquire through Cynthia Hager, see contact information above.
Registration
To register please complete the registration form [PDF] / [Word] and return it to:
Green Gulch Farm
Coming of Age Program Registration
1601 Shoreline Hwy
Muir Beach, CA 94965

Parents of participants must also provide (to remain confidential):
Medical Information [PDF]
Medical Release Form [PDF]