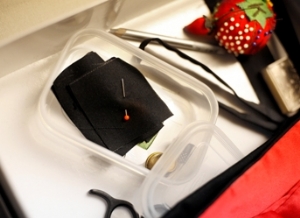 The San Francisco Zen Center sewing teachers are happy to make rakusu sewing instructions available on our web site. For assistance or information regarding sewing a rakusu, contact Stephanie Blank – stephanie.blank@sfzc.org at Green Gulch Farm or Tim Wicks – sewingroomadmin@sfzc.org at City Center.
City Center Sewing Room location and hours.
Green Gulch Sewing Room location and hours.
These instructions are intended for those who have received permission from their teacher to sew Buddha's Robe in preparation for a ceremony of receiving Bodhisattva Precepts, or for someone sewing a Robe as a gift for someone who has already received the Precepts. For those who would like to sew but have not received permission, please discuss the matter with a Zen Center teacher.
The documents (below) are intended to be used in conjunction with instruction from a qualified sewing teacher, as it is almost impossible to describe the construction of the rakusu just through words and techniques and measurements may change.  It is not recommend to sew a rakusu solely by relying on these written instructions. In particular, it would be important to consult with a sewing teacher regarding appropriate fabric and thread. Please be aware that within the tradition of sewing that has been passed down, different teachers may have slightly differing styles and preferred methods which are all valid. Please take any questions about these instructions to a sewing teacher.
NOTE 2017: These instructions are somewhat outdated due to improvements in measuring and working with the details of sewing a rakusu and the envelope. However, they will remain on this page for now with the repeated recommendation of working with a qualified sewing teacher.
Rakusu Sewing Instructions (pdf) NOTE: The image at the bottom of page 8 may be confusing. Check with a sewing teacher for accurate instruction.
Rakusu Face (pdf)
Rakusu Frame Worksheet (pdf)
Rakusu Envelope (pdf)