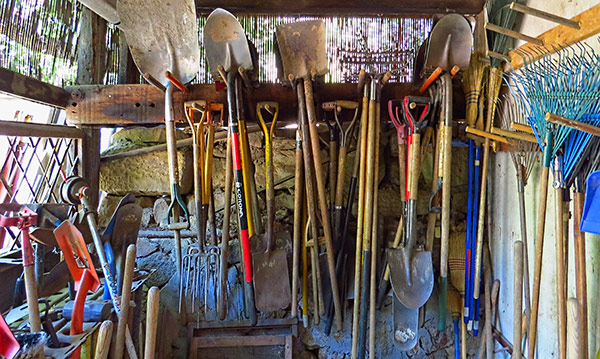 During the April and September Work Periods, at the times of transition between the summer guest season and the spring and fall practice periods, a team of volunteers assists with the maintenance of Tassajara. These are energetic times with an emphasis on work and community living. The work day is 6½ hours. Vegetarian meals and a bed in a cabin is provided. There is no money exchange. There are usually informal discussions about Buddhist practice and volunteers are welcome to join residents in the daily meditation.
Help is appreciated in the areas of carpentry, repairs, plumbing, electrical, gardening, painting, cooking, cabin preparation, and general maintenance.
There is a minimum stay of seven days.
Upcoming Work Periods
Spring Work Period has been canceled.
Fall 2020 Work Period: September 14 – 26, 2020
Application available August 14, 2020
---
How To Apply
Tassajara work periods are project-driven and fill up quickly. Effort is made to match volunteers to the projects that will be taking place during a particular work period. Tassajara deeply appreciates the support of volunteers and encourages interested parties to apply, though space and housing cannot be guaranteed.
Here is the information needed to complete the application:
Name
Phone number
Requested dates
Skills and degree of skill
Previous Tassajara work experience
Ride-sharing information
---
What to Bring
Tassajara is in a remote location, at the end of a 14-mile dirt road, with the closest stores two hours away. Please be sure to bring the following:
Sleeping bag
Pillow
Personal items (toiletries)
Towels
Flashlight
Battery alarm clock
Any necessary medicine
Rain gear, umbrella, and warm clothing (April)
Small power tools (e.g. skillsaw, routers, handplaners, etc.) if applicable
There is a limited supply of electricity (generated by Tassajara); it is a very precious commodity. Please do not bring any electrical or electronic equipment unless the equipment is task-related (i.e., will be used in support of work period projects). Personal computers are not allowed.
---
Work Period Schedule
5:30 am  
Wake-up bell*
6:00 
Zazen (Meditation)*
7:00
Morning Service*
7:30
Breakfast
8:30 
Work meeting
12:00 noon
Lunch
1:00 pm
Work meeting
4:30
End work / Bath and exercise time
5:50
Evening Service*
6:00
Dinner
8:00
Zazen (Meditation)*
9:15
Firewatch

*Optional events for work period volunteers