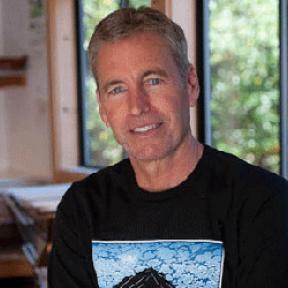 Tom Killion grew up in Marin County, California, where the rugged landscape inspired him to create Japanese-style woodblock prints. Killion studied history at UC Santa Cruz, where he was introduced to fine book printing by William Everson and others. In 1975 he produced his first illustrated book of woodcut prints, 28 Views of Mount Tamalpais, and in 1977 he founded his own Quail Press, where he has printed five handmade art books and over 400 relief prints. In 2000 Killion published The High Sierra of California in collaboration with Pulitzer-prize-winning poet Gary Snyder. In 2009 Killion's second collaboration with Snyder, Tamalpais Walking, was also published by Heyday Books of Berkeley. In 2015 Heyday released a third Killion/Snyder collaboration, California's Wild Edge.
In addition to his art, Killion holds a PhD in African history from Stanford University. During the 1980s he worked in refugee camps in the Sudan, and in the 1990s he taught at Bowdoin College and San Francisco State, and as a Fulbright Professor in Eritrea. In 2009 his art was featured on PBS TV's "Craft in America." Killion currently lives with his family in Point Reyes, California, where his studio is located.
A complete catalogue of his work may be found at TomKillion.com.