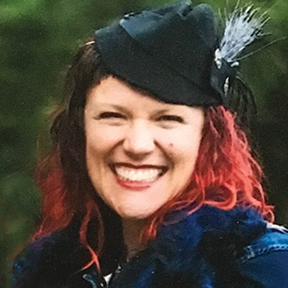 Suiko Betsy McCall brings her experience as a competitive synchronized swimmer, professional knitter, and founder of the Art Monastery Project to inform her visual art and her retreat hosting. Garnering degrees from Yale University and San Francisco Art Institute, Suiko creates paintings that have been exhibited from San Francisco and New York to Amsterdam and Rome.
In 2013, she co-authored and illustrated the book, Hosting Transformation: Stories from the Edge of Changemaking. In 2017, she authored and illustrated the workbook, Live Your Dream. Start Here. Start Now. Her paintings have been published in International Interiors Magazine, Leaping Clear Literary Magazine, and Cream City Review.
She is the Founder and Abbess of the Art Monastery, an arts organization dedicated to cultivating personal awakening and cultural transformation through artmaking, spiritual practice, and reciprocal relationship with the earth. An American non-profit, the Art Monastery is one of the founding organizations in the International Partnership for Transformative Learning. Suiko lived at the Art Monastery in its various locations throughout Italy for seven years and Art Monastery Vermont for five years. She lived at Green Gulch Farm / Green Dragon Zen Temple in California for four years. Suiko now lives on the Big Island of Hawaii.