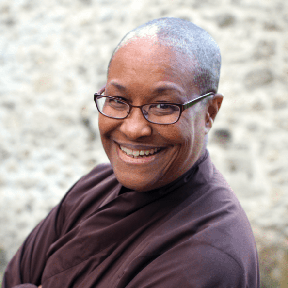 Sister Peace is an ordained nun in Thich Nhat Hanh's Order of Interbeing. She appears in the 2017 film "Walk With Me" under her monastic name—Sr. An Nghiem—and was profiled in Lion's Roar by Zen teacher Koun Franz.
Born in Washington, D.C., and educated in Catholic schools, Sister Peace graduated from Georgetown University. She built up a successful nail salon business and entered local politics, working on Anthony Willams' campaign for mayor of Washington and in his administration.
Practicing with the Washington Mindfulness Community, she met Thich Nhat Hanh when she assisted with a meditation retreat he led for the U.S. Congress. In 2006, she went to Plum Village to deepen her understanding of what a nun's life entailed, and her ordination took place in 2008.
She has had many roles in the Plum Village community including organizing retreats in Europe, Asia, Liberia, South Africa, and the US, as well as press and PR for the community.
Photo by Nyanayasha Shakya