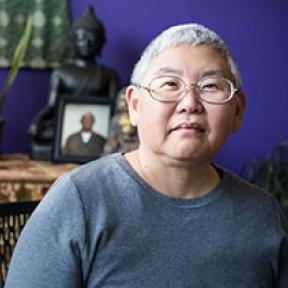 Mushim Patricia Ikeda is a Buddhist teacher, author, social justice activist, and mother based in Oakland, California. She teaches at the East Bay Meditation Center, where she leads the award-winning yearlong mindfulness program for social change agents, Practice in Transformative Action. Mushim is the recipient of the Gil A. Lopez Award for a peacemaker of color from the Association for Dispute Resolution of Northern California, and the recipient of an honorary doctor of sacred theology degree from the Starr King School for the Ministry. www.mushimikeda.com
Mushim has been featured in two documentary films: "Between the Lines" (on Asian American women poets) and "Standing on Faith: Women and the New Religious Activism in America," distributed by the Pluralism Project at Harvard University.
Fragrance-Free Policy:
Out of respect for people with environmental illnesses, we request that everyone attending events with Mushim Ikeda please not wear fragrance or scented products. This includes clothing that has been laundered with fragranced detergent or softening products. We greatly appreciate your efforts to make SFZC and this event accessible to those with MCS (Multiple Chemical Sensitivities). Please see the list of fragrance-free products and related resources on the website of the East Bay Meditation Center for more information that can assist you in keeping dharma events with Mushim fragrance-free.