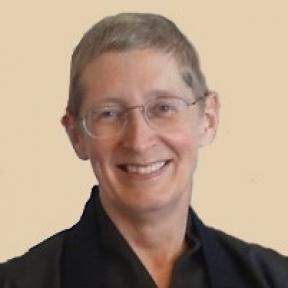 Kyosho Valorie Beer has practiced Zen Buddhism since 1991. She was ordained as a Zen priest in 2005 and received Dharma Transmission in 2013 from her teacher, Edward Brown. She lived at Green Gulch Farm from 2003 to 2012, when she moved to City Center. After serving as the San Francisco Zen Center corporate secretary, she was the City Center Ino (Head of Meditation Hall), and is now supporting the Branching Streams sanghas as a visiting teacher. Before taking up monastic life, Valorie worked for two decades in corporate Human Resources at various high-tech companies in Silicon Valley. She is the author of four books, she is a private pilot, and she is the mother of a thirty-something daughter who works and lives in the Bay Area.

Academic and Training Background: 

Valorie holds a PhD and MS in Education from the University of Southern California, and a BA in Anthropology from The George Washington University. Her professional career spanned two decades in human resources and organizational development, with a focus on group facilitation and management development.

At SFZC, Valorie is a practice leader and a teacher for Sewing Buddha's Robe; has also taught sutra copying, practicing with aging, and writing as a spiritual practice; and has led retreats at SFZC-affiliated sanghas.