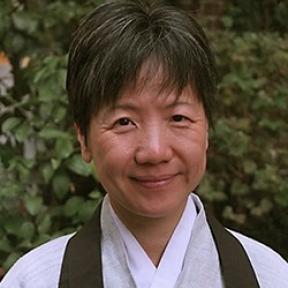 Gendo Lucy Xiao is a Zen priest and a Doctor of Acupuncture and Oriental Medicine. She started practicing at San Francisco Zen Center in 2000 and has studied with Ryushin Paul Haller Roshi and Sojun Mel Weitsman Roshi over the years. She received priest ordination in 2010 and served as Shuso (head monk) at Tassajara Zen Mountain Center in winter 2014.
Lucy was born and raised in Guangzhou, China. Having lived and practiced in both East and West has expanded her horizons and inspired her to keep exploring the heart of practice and expressions of Dharma wherever she is.
Currently Lucy is a residential practice leader at SFZC City Center and is connected with the wider world through her healing practice.
For more about Lucy's holistic medicine practice, please visit Dr. Lucy Xiao drlucyxiao.com
玄道老师2000年始在铃木俊龍大师创办的旧金山禅修中心 (San Francisco Zen Center) 习禅,多年来有幸师从禅修中心前住持龍心长老 (Ryushin Paul Haller Roshi) 和宗纯长老 (Sojun Mel Weitsman Roshi)。2010年剃度,2014年在塔撒哈拉禅山中心 (Tassajara Zen Mountain Center) 任首座,现任旧金山禅修中心常住导师,在修行和教学上综合东西方元素,别具一格。玄道老师亦为美国针灸暨东方医学博士,在旧金山设有诊所,擅长整体身心疗愈。