Corporate Secretary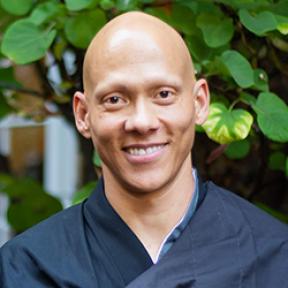 With a BS in Management with a concentration in Business, Eli has spent time working in the secular world holding positions in new home construction management and most recently working in for-profit education, as well as a benefit liaison for employee health and wellness programs. In response to encountering intense life situations that provoked deep self inquiry, Eli and his wife Cat took a break from the corporate world in 2012. The journey was an inward dive to bring forth true authenticity, live more connected to self and to others, as well as to reassess right livelihood. This sabbatical reoriented them to a new way of life, and they have been living residential sangha life at City Center ever since, where they are now raising their 2-year-old daughter.
After serving in preliminary training positions, Eli served as the City Center Work Leader. He is currently the Director of Work Practice, contributing to policy development, diversity/inclusion work, various trainings, conflict resolution, and other areas of Human Resources.
He is also Abbot Ed Sattizhan's jisha or formal assistant. Eli received priest ordination from Ed in September 2019 and was given the name So-On, which means Ancestor Warmth. Committed, energized, and impassioned by the mission of SFZC, Eli is grateful to be a board member!