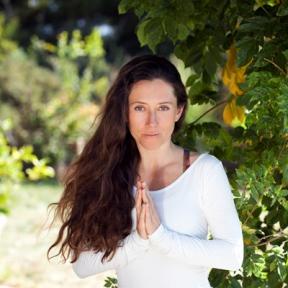 Founder of Divinitree yoga Santa Barbara and Santa Cruz, Ann has spent the last 15 years committed to learning and teaching yoga in its many diverse forms all around the world. From the Himalayas to the Amazon and from Fiji to Kenya, Ann has been harvesting seeds of wisdom and weaving together a tapestry of transformational tools into her life and teachings.

Graduating form Northwestern University with a degree in Eastern religion and cultural anthropology (with a specialization in traditional healing methods of indigenous cultures) Ann found yoga as the perfect path for healing ourselves and the planet.

Developing her own style, Gypsy Yoga Flow, Ann's classes are inspiring, transformational, and challenging. Known for her deeply spiritual and yet highly athletic classes, Gypsy Yoga Flow is meant to bring practitioners to an edge and is based on the belief that when we push ourselves out of our comfort zones and walk the edge we truly live.
Fusing power vinyasa with the freedom and femininity of dance, the energetic knowledge of chi gong, and the power of kundalini yoga, Gypsy Yoga Flow is known for its intense strength building, strongly intention based nature, and deeply intuitive, liberating, circular movements.

A committed student of yoga, Ann has a masters degree in education and has completed two 200 hour teacher trainings with Ana Forest and Janet Stone. Constantly immersing herself in teachings to keep her classes fresh, Ann's current inspiration comes from teachers like Janet Stone, Rusty Wells, Jonny Kest, and Stephanie Snyder.