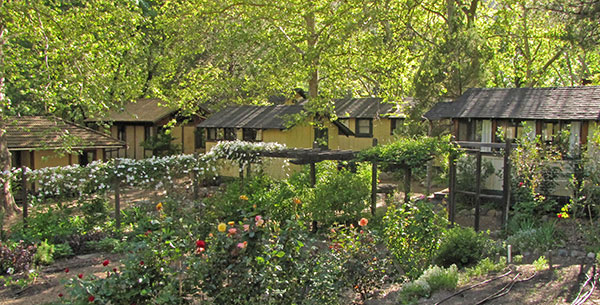 Because of Tassajara's remote location and rustic setting, first time visitors are encouraged to explore the links below and familiarize themselves with cabin options and accommodations policies. 
Commonly asked questions about overnight visits during guest season.
Photos and details about the range of cabin types and settings
Check-in, check-out, meals, cancellations, children at Tassajara, and more
---
General Info
Tassajara's Stone Office reception hours are 9:00 am to 7:00 pm. Guests are asked to stop by the office and confirm their room assignment and availability before going to their room.
Check-in time is 3 pm with late check-in offered until 7:00 pm. Check-out is 11:00 am. There is space on the luggage deck for guests who will be lingering longer. Please check-out in person before departing.
Guest meals are served at 9:00 am, 1:00 pm and 7:00 pm in the Dining Room. An optional bag lunch is available at 9:30 am. Additional snacks and tea are available in the courtyard from 3:00 pm to 4:30 pm and at the self-service coffee/tea bar throughout the day.
Tassajara observes special quiet time hours to support the practice of year-round residents. Quiet time begins at 8 pm and ends at 8:30 am after temple cleaning following morning zazen and service.