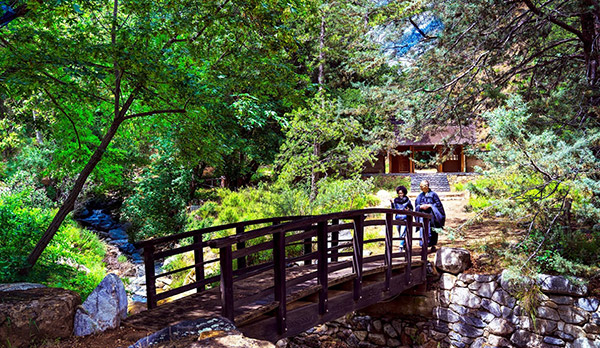 Tassajara is nestled in a mountain valley located in a remote part of California's Ventana Wilderness, inland from the Big Sur coast. It is one of three Soto Zen practice communities that comprise San Francisco Zen Center. Tassajara, also referred to by its monastery name of Zenshinji (Zen Heart-Mind Temple), is dedicated to San Francisco Zen Center's mission, which is "to embody, express, and make accessible the wisdom and compassion of the Buddha."
Surrounded by inspiring mountain vistas, Tassajara encourages a more spacious and present way of being. The hot springs melt away the stress and dust of daily living. Carefully prepared food nourishes body and spirit. The air and the skies are crystal clear, and the stars shine brightly at night. Away from the distractions and demands of daily life, supported by the sounds of the creek and the breeze in the sycamores, the opportunity to deeply relax and connect with the natural world is readily at hand.
Since 1967, Tassajara Zen Mountain Center has offered monastic training periods during the fall and winter months.
All are welcome.
Learn more about the history of Tassajara Hot Springs and Tassajara Zen Monastery.
The history of the land around Tassajara begins with the indigenous peoples of coastal tribes. Those who may be descendants of settlers, immigrants, or of those forcefully brought as laborers to this continent can recognize and remember that Tassajara occupies traditional, unceded Esselen lands. For more information about Tassajara's relationship with the Esselen Tribe and the Four Winds Council, see this interview with neighbor Esselen Tribal Chairman Tom Little Bear Nason in the 2020 Impact Report.
For more about native lands, languages, and territories, see the website native-land.ca as a resource to learn about and acknowledge the Indigenous land that includes Tassajara/Zenshinji.
---