This page will be updated with news regarding Tassajara and Jamesburg and the current fire situation. Please check back frequently as things may change quickly. San Francisco Zen Center and Tassajara send love and support to our surrounding neighbors and everyone impacted by the fires. May all be free and safe from harm.
For information specific to the fires in the area of Tassajara, we have found the blog site Big Sur Kate to be very helpful.
October 9, 9:30 am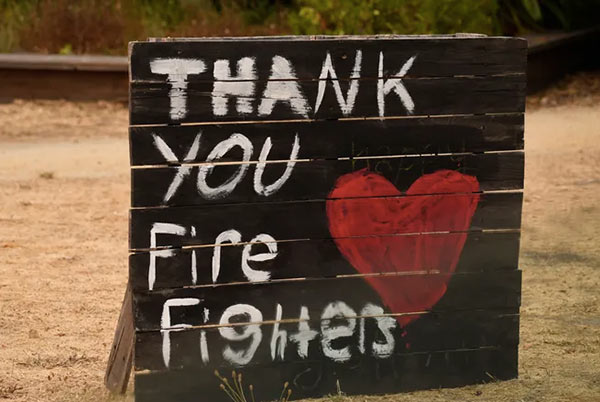 Dolan Fire, Final Update
It's with much gratitude and relief that we announce that this will be the last post to this page on the Dolan Fire near Tassajara, as it is now 98% contained. The fire season is still active, of course, and we will remain vigilant in our efforts until the rains come, but for now we feel it's time to close this page.
Currently, President Linda Galijan, Tanto Greg Fain, Director Goyo Piper, and a few students remain at Tassajara to handle basic maintenance and keep Dharma Rain running.
The numerous fire crews that fought the River, Carmel, and Dolan fires are the reason Tassajara and Jamesburg are still standing. Thousands of people worked tirelessly to keep us, and our friends and neighbors, safe. In addition, the labors of Tassajara residents and the Tassajara fire crew meant that if the fires had arrived, we were as prepared as we have ever been to meet them. Our gratitude is boundless.
September 30, 11:30 am
The Dolan Fire is 87% contained, with the majority of the perimeter under control. There is some concern as the winds will be picking up in the next several days. While there is a fire weather warning through Friday, due to high heat and winds, the winds are from the north/north-east (blowing away from Tassajara). This video update and this report offer details.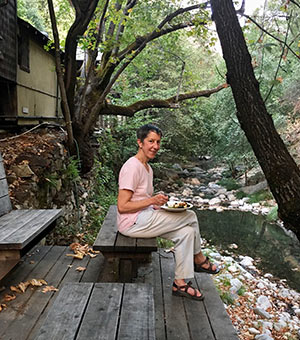 President Linda Galijan is currently living at Tassajara, along with her husband Tanto Greg Fain, Director Goyo Piper, and another student. The original crew, which had two professional firefighters, will return to Tassajara only if there is an immediate threat of fire. Meanwhile, Linda is there short-term; the others will remain indefinitely. She says:
"Today the weather has been in the high 90s, low 60s for Arroyo Seco, so that is good for evaluating fire risk. However, my thermometer indicates mid-80s in the valley. Astonishingly pleasant! We continue to maintain Dharma rain, work on general upkeep of Tassajara, take care of administrative duties, and share cooking our meals."
San Francisco Zen Center and Tassajara offer deep gratitude to California Interagency Team 15 and all firefighters throughout the Western United States for their tireless work and dedication during this fire season.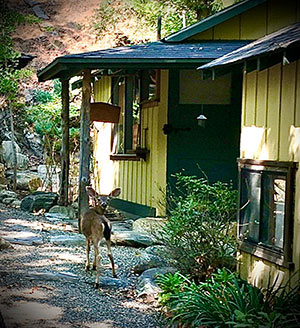 September 21, 3:30 pm
We are happy to report that while the Dolan Fire is not yet completely contained, it remains far enough away from Tassajara that the current crew, who have been at Tassajara for over a month, will be able to step away for a while and take a break. They will leave Tassajara on 9/22 and be replaced by a new crew which will include President Linda Galijan, Tassajara Tanto Greg Fain, and Tassajara Director Goyo Piper.
It is not possible to list everything that this original crew has done to be sure Tassajara is as prepared as possible should there be a fire incident. Their work, as well as the work of many students over the summer, is deeply appreciated by those of us who care for Tassajara. We wish them all a very deserved rest!
The fire is currently 46% contained. In their most recent video, Pacific Northwest Team 2's Fire Behavior Analyst Dana Scully explains that until the area gets a significant rainfall, hotspots and potential flare ups are to be expected (starting at 1:30). Additionally, Tassajara is mentioned as an area that they are continuing to keep their eye on as the terrain is too rough to put in crews (starting at 5:10).
Pacific Northwest Team 2 stayed an additional week beyond their usual 14-day time-frame to fight the Dolan Fire as there wasn't a team available to replace them. They will be leaving on Tuesday 9/22 and replaced with California Interagency Team 15. We join our neighbors in thanking them for an incredible job, both in fighting the fire and communicating with those of us concerned about it.
September 20, 3:30 pm
Currently the Dolan Fire is staying south and east of Tassajara. The Pacific Northwest Team 2 is working very hard to keep the fire south of Willow Creek and the southern end of Tassajara Creek. Of course this could change at any moment, depending on winds, weather, and other unpredictable circumstances. Team 2 is very aware of Tassajara. They have been staying in touch with our crew and working closely with them.
During this time when the fire is not an immediate threat to Tassajara, we may not be updating this page very frequently. In this case, no news really is good news. If you would like to keep a close eye on things, we can highly recommend two sources:
US Forest Service - Los Padres National Forest Facebook page is an excellent source for the most current information. They post twice daily fire updates and many informative videos explaining their actions, decisions, and other interesting facts about firefighting. They are doing a fantastic job of keeping the public informed. They also hold a live public meeting every two days where you can submit questions.
Another good source is InciWeb, the national incident information system for wildfires and all-hazard incidents. This is the Dolan Fire page. They post reports twice daily, including maps and other helpful information.
If anything should change in regards to Tassajara and the Dolan Fire, we will post to this page as soon as we possibly can. Meanwhile, the Tassajara crew remains in good shape, tending daily to Dharma Rain and maintaining a cautiously optimistic attitude.
It looks like several of the crew members of the Pacific Northwest Team 2 are going to tap out for some rest after working on this fire every day for twenty days. Our gratitude to them is boundless.
September 14, 7:30 pm
This is the latest map from the US Forest Service (USFS). To get a sense of how far the fire is from Tassajara, each square equals one mile.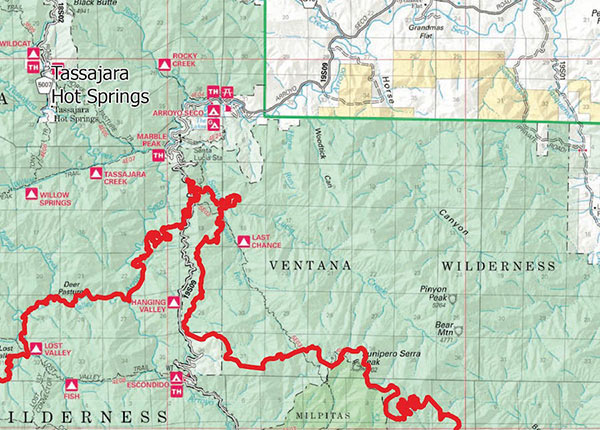 Tassajara is very much on the Pacific Northwest Team 2's radar and the Tassajara crew is in direct communication with them. A 5-person module from the Bureau of Land Management visited recently and helped install more pumps for Dharma Rain. Everyone there is closely monitoring the fire activity and the winds. [Some details in this paragraph corrected on September 15, 12:30 pm from the September 14, 7:30 pm version.]
The USFS PNW2 Incident Management Team is now in unified command with CAL FIRE. This is good news as it will bring more resources and local expertise to the area.
This video explains the strategy of using heavy helicopters to drop water along the ridge in Arroyo Seco. Fire retardant can't be used within 300 feet of a waterway so the use of these water drops is very important.
September 10, 3:30 pm
Due to extremely hot, dry weather over the past few days, the size of the Dolan Fire has grown considerably. The growth has been mostly to the south and east, and has also moved very slightly towards Tassajara.
For the most up-to-date information on the fire and for Pacific Northwest Incident Management Team 2's take on how they are thinking about Tassajara and our neighbors, see this video of the most recent live community meeting. Tassajara is mentioned towards the end of the meeting, starting at 14:10.
The safety of the crew at Tassajara is our utmost concern. As with all fires, there is much uncertainty and the situation can change rapidly. We are monitoring the situation very closely and will be posting updates as soon as we have confirmed information. The Tassajara crew are in communication with the Forest Service and we are in communication with the Tassajara crew several times a day.  
Please continue to check back here where we will post updates as they become available. We are deeply grateful to the 793 people currently involved in fighting the Dolan Fire and send heartfelt wishes for their health and safety.
September 8, noon
Last night strong northerly winds picked up in the area. The US Forest Service reported this morning that the winds kept the south and east flanks of the fire very active overnight. This means the fire was most active away from Tassajara.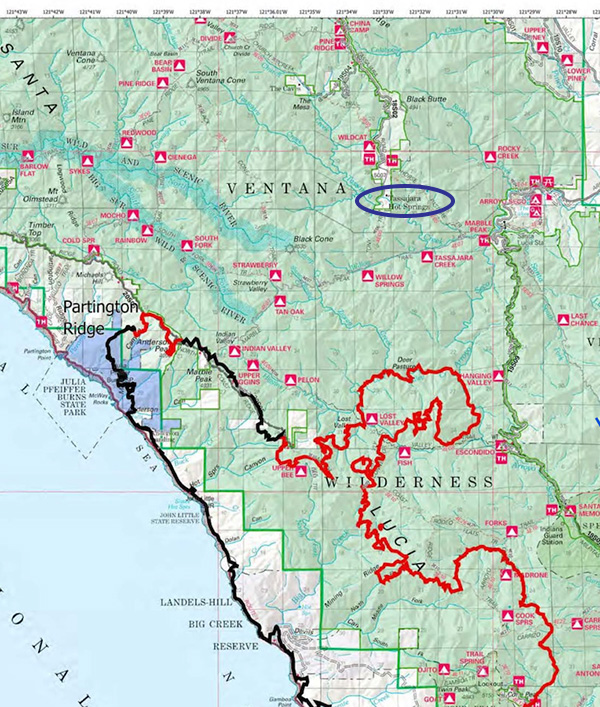 The wind is predicted to shift over the next day or so and the situation is being closely monitored as it unfolds. Last night was a busy night for the Tassajara crew as they increased their prep and ran the Dharma Rain sprinkler systems. This morning they reported that all is well.
The photos below were sent this morning from Tassajara. The first (the vehicle is parked in the center of Tassajara) shows fuel reduction work; the second shows Dharma Rain on the solar panels.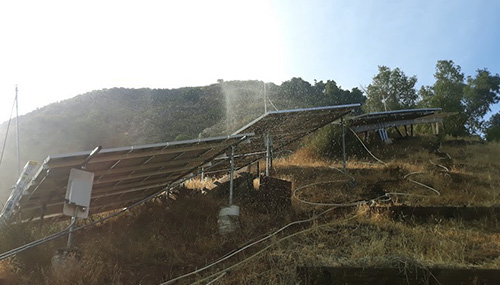 September 4, 2:00 pm
The Pacific Northwest Incident Management Team 2 assumed command of the Dolan Fire yesterday following a successful transition with California Incident Management Team 2. (Firefighting crews have to rotate out after 14 days.) Deep bows of appreciation to both teams.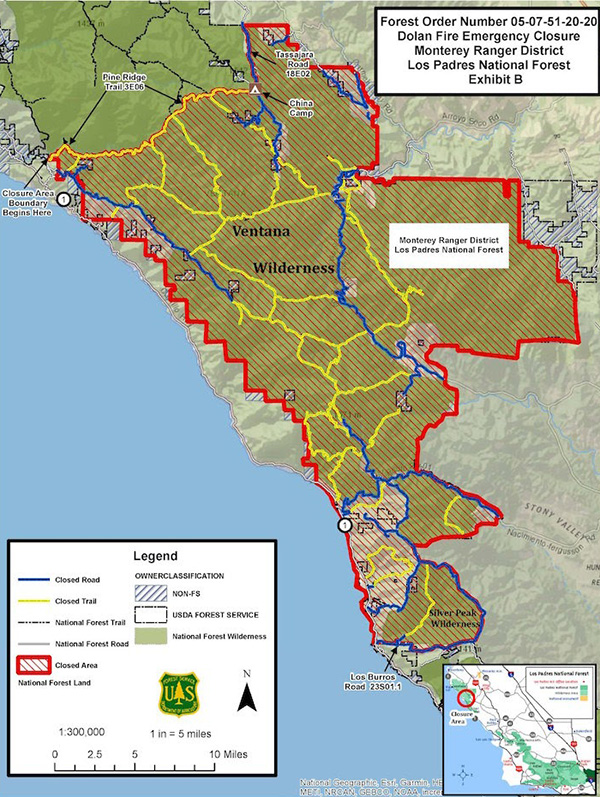 The Dolan Fire Emergency Area Closure has been expanded to include Tassajara and the lower part of Tassajara Road. This means that people are not allowed to visit, hike, or camp in the area, nor use any of the closed roads or trails. There is an exception for people who own land and/or normally live in the zone, such as the people who are currently at Tassajara. Please see this Facebook post for more information.
The fire is currently not threatening Tassajara but the hot weather predicted for the weekend is a concern and will be monitored closely. Everyone at Tassajara is doing well and keeping busy.
New image from Tassajara: Cautiously optimistic, moving quickly, and steadily working at tree maintenance and pump maintenance.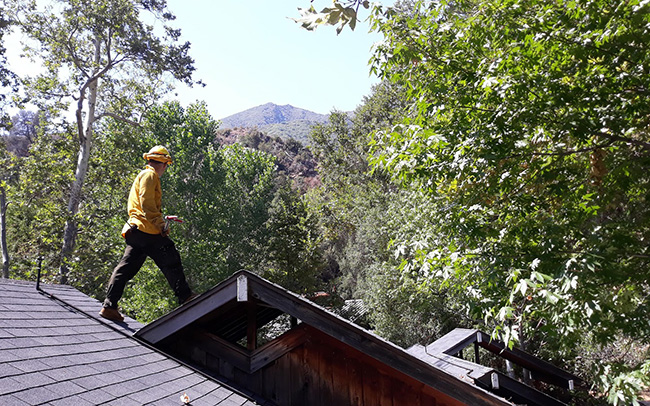 For the most up-to-date information on the fire, we find the U.S. Forest Service - Los Padres National Forest Facebook page to be the most current as they often post twice a day with the latest updates.
September 1, 11:00 am
We're grateful that the Carmel and River fires are no longer a concern, and the Woodward fire in Marin is much quieter in its southern borders, taking some pressure off Green Gulch Farm. Our hearts are with our neighbors and communities that still haven't seen the end of these fires.
The Dolan fire in Big Sur continues to challenge firefighters but in this video from August 31, Dennis Burns, Fire Behavior Analyst, indicates that they might be able to move crews into the Ventana Wilderness and start working on the fires there.
This morning's update confirms this:
"The fire has been growing approximately 1,000 acres each day. Most of this growth has been into the Ventana Wilderness. Several Hot Shot crews will be flown into the wilderness area today. They will be hiking to the fire from the landing zone and begin the construction of (a) line on the fire's edge."
—from Los Padres National Forest Facebook
Meanwhile, all is well at Tassajara and the crew is continuing a schedule of maintenance and prep.
What is Dharma Rain?
From Elliot at Tassajara: "We have approximately 80 sprinkler heads installed throughout the valley which are all operational and cover just about every built structure we have. We can run all of these sprinklers simultaneously with three Honda fire pumps pulling creek water into the standpipe system combined with the head pressure from our irrigation tank."
August 28, 3:45 pm
The Dolan Fire situation remains about the same, at least in how it relates to Tassajara. The eastern edge of the fire is being monitored but resources and personnel are limited, so most of the attention and crews are focused on the more populated areas in Big Sur.
At the Dolan Fire Community Meeting 2 pm today (watch video here)
The Woodward Fire in Marin is 8% contained but still active. Green Gulch Farm remains out of the Evacuation Warning Zone.
Unless there is a significant development, we will not be posting to this page over the weekend. No news is good news, at least so far. Thank you for your care and concern for Tassajara and GGF. And thank you, once again and as always, to the firefighters and other officials who are fighting so hard to keep everyone safe.
The River and Carmel Fires are above 55% containment for both fires and we will no longer be following them closely.
The Dolan Fire is at 15% containment and firefighters are focusing on the populated areas along Highway 1, while keeping an eye on the fire's eastern movement.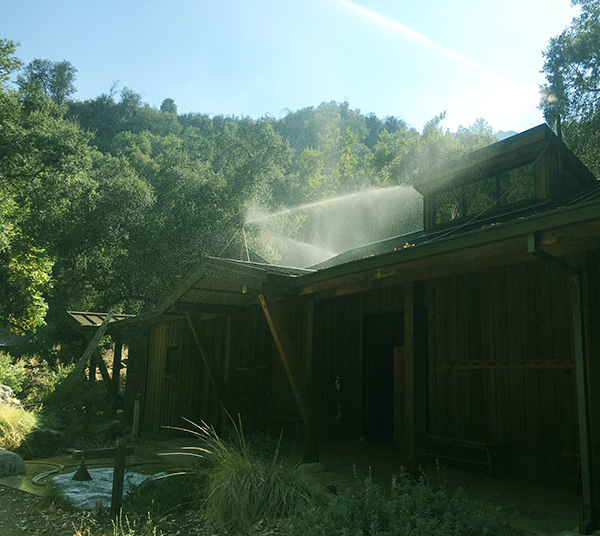 At Tassajara, the crew continues to prep and train. Their spirits are good and readiness remains their top priority. The photo above is of the sprinkler system Dharma Rain on the roof of the retreat building.
The Woodward Fire is holding at its southernmost border and evacuation orders have not changed. Green Gulch Farm remains alert but is not in the evacuation warning zone.
The Carmel Fire evacuation orders were lifted for Jamesburg in Zone 5 and we're happy to report that people are able to return home today. The River Fire is at 48% containment and Carmel is at 45%, so the general feeling is that the fires have turned a significant corner today. A big shout of gratitude to firefighters, first responders, and volunteers!
The Los Padres National Forest officials issued a forest order closing the Dolan Fire area on the Monterey Ranger District to the public, effective today, August 26. Tassajara is NOT currently included in this order: see Tassajara on this map, lower right. (The word Tassajara is listed on this map, beneath Marble Peak Trail, but this is not Tassajara Hot Springs.)
An additional person, who has plant manager and some firefighting experience, arrived yesterday from Green Gulch Farm, making a total of five people currently at Tassajara. Some of the tasks they are performing are covering windows, laying hoses, clearing fuel, testing systems, and other prep work.
In Marin, the Woodward Fire crews were able to build lines on its southernmost border, going back to the Baldy Trail, which is good news for Bolinas, GGF, and other communities. There isn't 100% confidence yet that they will hold, so this is not being counted in the containment percentages.
Fires continue to burn and we continue to send our gratitude and energy towards those on the front lines in Marin, Monterey, and beyond to the hundreds of fires burning throughout California and the West.
August 25, 2:00 pm
The River and Carmel fires have settled down some, with containment numbers in the 30 - 33% range. Evacuation is still in effect for Jamesburg as fire crews work to contain the southeastern end of both fires which are still showing some activity. Here's a report from this morning that goes into more detail.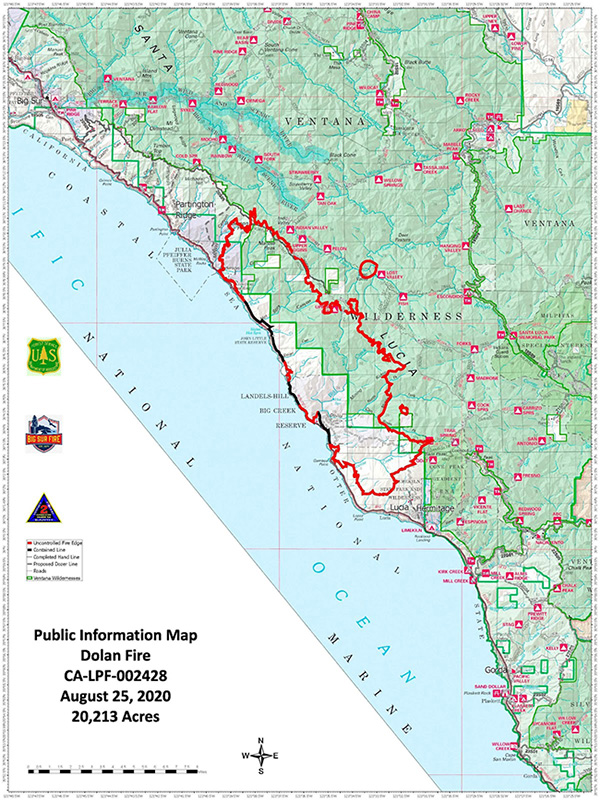 The Dolan fire's eastern edge continues to burn into the Ventana and firefighters are monitoring it near the North Coast Ridge Road and North Coast Ridge trail. On the map above, Tassajara is located in the center towards the top, to the right of the word "Ventana." Here is the most current Dolan Fire briefing.
Today SFZC Leadership released an expression of gratitude honoring the enormous contribution that Tassajara residents made towards fire abatement this spring and summer.
We want to express our tremendous gratitude to the residents of Tassajara who have done so much work this spring and summer in preparation for the possibility of fire. Many people spent hard-working hours on fuel reduction, pump and Dharma Rain maintenance, care for the grounds, as well as all the regular everyday upkeep.
The crew who is at Tassajara now sent this message: "We would be so much further behind the curve if that work wasn't performed. Now we can focus on more technical things. We really want to acknowledge what was done and stress the value of preventative work."
Tassajara would not exist without the people who make it so. Please know how much appreciation is coming your way.
Leslie James, Abiding Teacher, Tassajara
Rinso Ed Sattizahn, Abiding Central Abbot
Tenzen David Zimmerman, City Center Abiding Abbot
Ryushin Paul Haller, Urban Temple Dharma Teacher
Helen Degenhardt, Board Chair
Shinchi Linda Galijan, President
Sozan Diego Miglioli, Vice President
The Woodward Fire was still very active last night, especially in the north and eastern edges. However, the southern edge held through the night which is very good news for Bolinas, Green Gulch Farm and our neighboring communities. For details, see this update which starts at 9:15.
August 24, 3:00 pm
The Dolan fire continues to burn into the Ventana Wilderness but does not immediately threaten Tassajara. The Carmel and River fires are still burning and evacuation orders are still in place for Jamesburg. Fire is close to Jamesburg (along Tassajara Road where it meets Chachagua Road) but not immediately threatening it.
This Monterey County 2020 Fire Page has maps and the most up-to-date information on all three fires. By clicking the plus sign, you can zoom in on the map and find Jamesburg in the upper middle of Zone 5. Tassajara is at the bottom of the long green vertical shape, just to the right of the words "Ventana Wilderness."
Also of interest to some might be this report on how the Forest Service is working to protect and mitigate impact on endangered wildlife, such as the California Condor.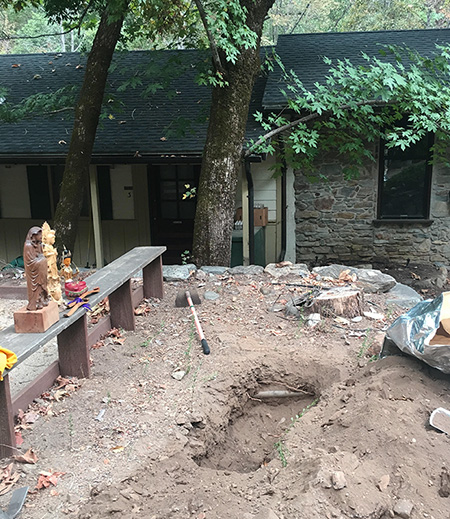 Yesterday afternoon various Buddha and bodhisattva statues from around Tassajara were buried in the bocce ball court to protect them should a fire come. This task was performed with great reverence, ceremony, and care by Kogen, a SFZC priest who is one of the four fire crew members currently at Tassajara. In this photo, some of the statues look on as the trench is dug. They will be carefully wrapped before being buried.
In the past, burying the statues in the bocce ball court has been the form to protect them from fire. (They have also been secured in a Stone Room.) For a history of fire at Tassajara, see David Chadwick's Tassajara Fire History page on Cuke.com and the online version of the 1977-78 Wind Bell.
The Woodward Fire north of Green Gulch Farm remains active. A new professional firefighting crew, the Northern Rockies Team 2, arrived yesterday and is now in charge of the fire. For more on the Woodward Fire, this briefing from the Marin County Fire Department's Facebook page is helpful (fast forward to 9:00). Green Gulch Farm is continuing to monitor the situation and refining their evacuation procedures.
August 23, 1:15 pm
There are currently four people at Tassajara, two who have professional fire fighting experience and two residents who also have some experience and knowledge of Tassajara systems and terrain. While acknowledging that things can change rapidly in these situations, today they feel optimistic and energized. They are working hard on structure prep (readying buildings should fire come.) Jamesburg remains evacuated.
The Carmel Fire (the one that is closest to Jamesburg) was relatively quiet last night but officials are concerned about a weather change that is due today that could bring high winds. This update from Cal Fire BEU (the California Department of Forestry and Fire Protection Wildland fire protection responsible for San Benito and Monterey Counties) has some of this information. Also available in Spanish.
For information on the Dolan Fire (Big Sur/Ventana Wilderness) this update from the US Forest Service is very useful. Also, this update from last night contains some analysis and also expresses concerns about today's weather patterns.
Green Gulch Farm still remains outside of the evacuation warning zone. GGF Director Thiemo Blank and the maintenance crew are busy checking all the dharma rain sprinkler systems to make sure everything is in working order.
August 22, 9:30 am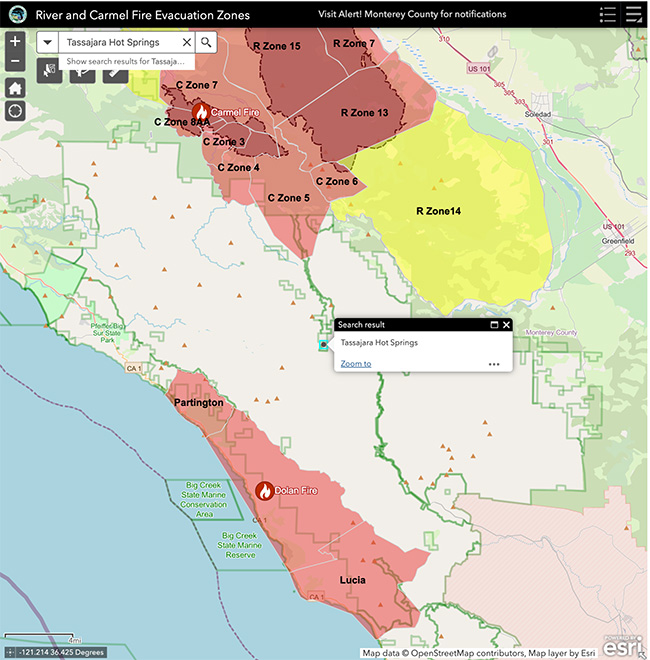 Dark red is fire; light red is mandatory evacuation; yellow is evacuation warning (Source)
On Friday afternoon, six of the eight remaining students left Tassajara and safely made their way to City Center, Green Gulch Farm, and other locations. Those from Jamesburg remain evacuated and are doing well.
We are grateful to report that this weekend, a group of professional firefighters are scheduled to arrive to lend their hand in preparing Tassajara for a possible fire. The two remaining students and a GGF resident who arrived yesterday with a fire professional have the skills and experience that will be helpful to these efforts and are very familiar with Tassajara and the surrounding terrain.
We will continue to post on this page, as needed, with the most up-to-date information we have. We deeply appreciate your expressions of concern and love during this time and send wishes of good health and safety to the many communities facing these fires in California and beyond.
Note: As of this writing, the Woodward Fire in Marin County is still active and several miles away from Green Gulch Farm. From Lauren, a GGF resident: "Air quality is highly variable throughout the day. Evacuation warnings are from the south end of the fire to Bolinas so currently we are under no warning but everyone is aware to have a go-bag ready and we are making sure there are plans in place should we need to evacuate. According to the Marin Independent Journal, the fire recently got air support and that has made a real improvement on the fight."
August 21, 10:00 am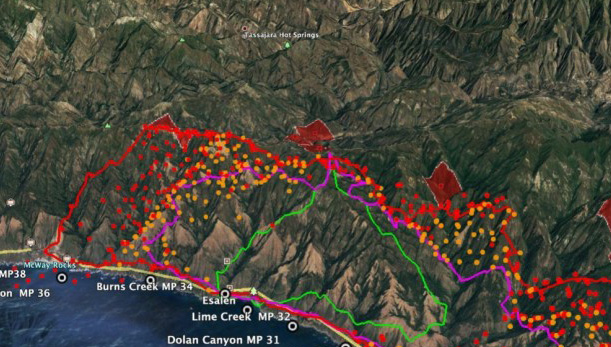 The Dolan Fire showing Tassajara near the top of the image
There's an update on the Dolan fire, one of the three fires that continue to actively burn near Tassajara, on the Big Sur Kate blog. This image from the blog shows where the fire is in relation to Tassajara. We will continue to update this page with news from Tassajara as it comes, likely later today. Meanwhile, all who remain are well and working hard to clear brush and run Dharma Rain, our sprinkler system.
This map (also from Big Sur Kate) shows where the Carmel and River fires are in relation to Jamesburg.
August 20, 10:30 am
Jamesburg was evacuated yesterday afternoon. Everyone is fine and safe in Carmel Valley. Seven people left Tassajara last night and are now at City Center, Green Gulch Farm, or staying with friends. The eight people who remain are doing well and in good spirits. They are continuing to work on fuel reduction and are running Dharma Rain (the fire prevention sprinkler system) at full capacity. Greg Fain, longtime Tassajara resident, described his experience: "It's a very soggy situation."
August 19, 11:30 am
There are currently three active fires in Monterey Co: River Fire (near Salinas), Carmel Fire (Cachagua Rd. near Jamesburg), and Dolan Fire (Big Sur, close to Esalen.) The Dolan Fire grew to 2500 acres overnight and is exhibiting extreme fire behavior. It is 7.5 miles away.
15 people are currently at Tassajara. There was an evacuation warning yesterday from the county (not an evacuation order). The sangha is currently focused on establishing evacuation plans and preparing for all eventualities.
Residents are running Dharma Rain (the sprinkler system that helps to keep buildings and the general area damp) every day; the pumps are all working smoothly. They have been working hard on "fuel reduction"—clearing brush, dead trees, etc. to reduce fuel for the fire. Fire prep will continue and is now the main focus.
From Leslie James at Jamesburg
We have heard that CalFire is planning to back burn on the Carmel Fire hoping to stop it about mid-Cachagua Road (I think), saving the Jamesburg side. Sky Ranch has lost several homes. The River Fire is coming closer as it moves south. It may get to Carmel Valley Road east of us at some point.