This page will be updated with news regarding Tassajara and Jamesburg and the current fire situation. Please check back frequently as things may change quickly.
San Francisco Zen Center and Tassajara send love and support to our neighbors and everyone impacted by the fires. We send our gratitude and wishes for safety to the firefighters who put their lives at risk everyday to protect us and all who live in this valley. May all be free and safe from harm.
2021 Fires

July 7, 10 am
As of July 2, the Willow Fire evacuation warning for Tassajara has been lifted and the residents have returned to the valley. The US Forest Service has set Sunday, July 11 as the estimated containment date. San Francisco Zen Center is grateful for all the hard work and support from firefighting agencies, firefighters, members and donors, the Tassajara Fire Crew, and numerous beings. We also bow deeply to the loss of wildlife and habitat and strengthen our vow to be good stewards of this precious place and all who call it home.
---

June 28, 2 pm
The 2021 Willow Fire is 73% contained and Tassajara is no longer in critical danger. San Francisco Zen Center extends deep appreciation and thanks to the agencies and firefighters for their support during this emergency. As Tassajara is still under an evacuation warning status, the Tassajara Fire Crew will remain there until further notice. Thank you again to all of those who have been following the situation and keeping SFZC in your thoughts.
---

June 24, 11 am
Article in online New York Times: 'Fire Monks' Defend Tassajara Zen Monastery From Wildfire
---

June 23, 9 am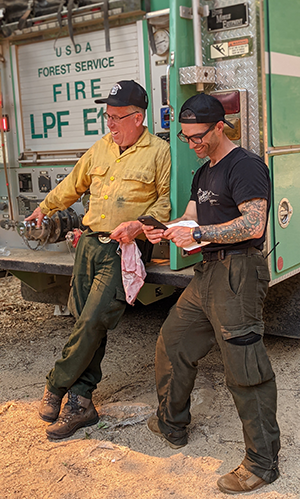 ---

June 21, 3 pm
On Sunday, the California Interagency Incident Management Team 11 (CIIMT-11) took over management of the Willow Fire. Team 11 has been briefed in all areas of the incident and is prepared to work toward the goal of containment. The goal for containment is set for July 11, according to the incident report.
The Tassajara Fire Crew had ladder training today, and they are maintaining pumps and sprinklers. They are sitting zazen every morning and holding service. Spirits are good.
'Fire Monks' Prepared to Defend Tassajara Zen Center as Willow Fire Threatens – KQED post by Lakshmi Sarah, June 21
---

June 20, 3 pm

"The Willow Fire is approximately 2,066 acres and is burning in steep rugged terrain in the Ventana Wilderness. There are 452 firefighters on the ground including 7 Type I Interagency Hotshot crews assigned to the fire. Air support including fixed-wing air tankers and water-dropping helicopters are assisting crews on the ground. Fire is holding within the perimeter. Multiple Divisions are reinforcing existing line construction and dozer lines from the Dolan Fire of 2020. Retardant lines held well during the day minimizing growth and is expected to continue through the evening. Continued hot and dry weather conditions persist with an increase in winds. Relative humidity is limited."
—Willow Fire Update – June 19, 2021: U.S. Forest Service - Los Padres National Forest
Two good maps on Big Sur Kate's morning update.
San Francisco Zen Center extends deep gratitude and wishes for safety to all the agency firefighters working on this fire. The video above, taken from the parking lot outside the gate, shows them hard at work dropping fire retardant.
The ZMC Fire Crew has been working diligently on Dharma Rain and pumps. Crew morale is high as we enter the third day of the Willow Fire.
Some images from Tassajara: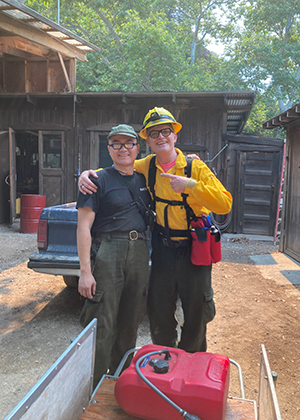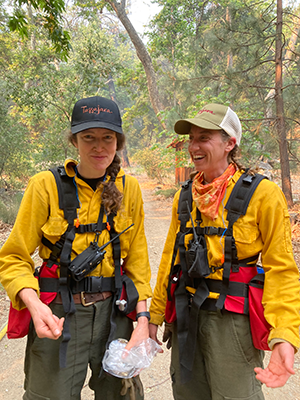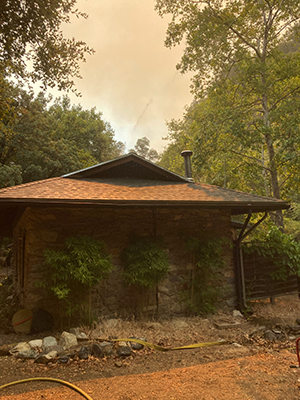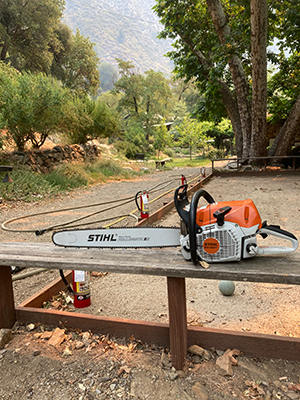 ---
June 19, 7:30 am
There was moderate fire activity last night and the fire has moved closer to Tassajara.
A module (a crew of ten firefighters) worked with the Tassajara Fire Crew yesterday and through the night, helping with fire prep and cutting fire lines. Dharma Rain was run until 11 pm. The area is damp and the water supply is good.
The module ran a rotation of fire-watchers throughout the night, which gave our crew a good opportunity to rest.
---
Statement from SFZC President Sozan Miglioli on the Willow Fire

The Willow Fire started in the Los Padres National Forest last night about 3 miles from Tassajara (see map) and is currently heading in the direction of Tassajara.
Monterey County Sheriff's Office has issued an Evacuation Order for Tassajara Road northwest to China Camp Campground in the Los Padres National Forest, including tributary Forest Routes and the Tassajara Zen Center.
At 10:30 today most of the Tassajara residents were evacuated.
The ZMC Fire Crew will remain in order to run "Dharma Rain" (Tassajara's sprinkler system) and to prepare the monastery in case the fire reaches the valley. Tassajara has been working on special fire prep projects during the pandemic shutdown and the fire crew has been in place and training for several months. Our water supplies are good and we are well prepared for this situation. Right now there are four engines at Tassajara (two from CalFire and two from the Forest Service). They are helping our Fire Team to prep.
We will continue to update this page with recent developments. The Resource list has been revised to reflect sources for the most up-to-date information on the fire in general. Thank you for your concern and for keeping Tassajara and our friends and neighbors in your thoughts.
Map Credit: Big Sur Kate